WikiLeaks slams 'clear breach of process' as probe into Assange 'rape' claim continues
WikiLeaks highlights 'numerous irregularities' in Sweden's investigation.
Whistleblowing outfit WikiLeaks has released a statement highlighting what it claims are "irregularities" in the ongoing preliminary investigation by Swedish prosecutors who are currently in London to interview Julian Assange about allegations of sexual assault.
The questioning, led by Sweden's deputy chief prosecutor Ingrid Isgren, began on Monday (14 November) and is taking place at the Ecuadorian embassy where Assange, 45, has resided since 2012 under political asylum amid fears of extradition to the US.
"After six years of offering his statement to the Swedish authorities, Julian Assange has finally been afforded the opportunity to do so," WikiLeaks said in a release. Referencing the long legal deadlock, it added: "There have been numerous irregularities in Sweden's preliminary investigation.
"Sweden's failure to progress the preliminary investigation until now has resulted in a gross breach of Mr Assange's right to be presumed innocent and has fatally harmed his ability to meaningfully defend himself. Unfortunately, the irregularities with procedure have continued today."
The sexual assault allegations against Assange were filed by two women in 2010. While the statute of limitations on one allegation has expired, authorities are still probing an accusation of rape. The WikiLeaks founder has denied all wrongdoing and has not been formally charged.
In its statement, WikiLeaks said that Assange's Swedish counsel, Per Samuelsson, was "not notified or summoned" to attend the questioning procedure "despite the fact that the process concerns a preliminary investigation in Sweden under Swedish law."
It continued: "Mr Assange's Swedish defence counsel had travelled to London in the hope of being able to attend. In spite of the fact that Mr Assange's Ecuadorian counsel, Carlos Poveda Moreno, raised concern that Mr Samuelson was not present at the start of the procedure, the authorities in charge proceeded anyway.
"The clear breach of process did not stop Mr Assange cooperating fully. Mr Assange felt compelled to participate even with these problems."
Assange's lawyer Jennifer Robinson told media outside the embassy: "We hope this will end the matter. [Assange] gave his statements to the prosecutors and it was a long day." She added: "The UK and Sweden continue to refuse to recognise [his] asylum."
According to CBS News, Samuelsson complained about not being asked to attend the questioning – however indicated the fault was with Ecuador. "I'm not on the list of persons that Ecuador has drawn up and allowed to be present," he told Swedish broadcaster SVT. "An Ecuadorean lawyer has taken up this question as a formal issue."
The Swedish Prosecution Authority has said it is unlikely that any detailed information about the questioning will be released in to the public domain. A spokesperson said: "As the investigation is ongoing, it is subject to confidentiality."
In an agreement between Sweden and Ecuador, Assange was reportedly asked to answer a set of pre-submitted questions and consent to a DNA sample.
Ecuador's foreign minister, Guillaume Long, said: "We are pleased that the Swedish authorities will finally interview Mr Assange in our embassy in London. This is something that Ecuador has been inviting the Swedish prosecutors to do ever since we granted asylum to Mr Assange in 2012.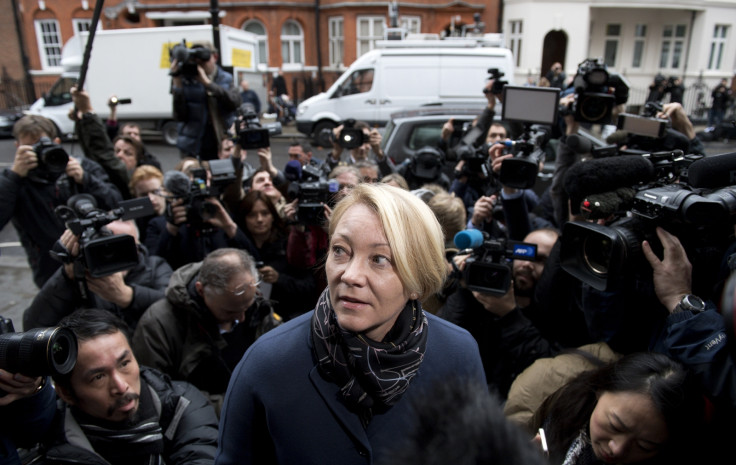 Swedish prosecutor Ingrid Isgren is surrounded by media as she arrives to attend an interview with Assange on 14 November 2016
Getty
"There was no need for the Swedish authorities to delay for over 1,000 days before agreeing to carry out this interview, given that the Swedish authorities regularly question people in Britain and received permission to do so on more than 40 occasions in recent years."
WikiLeaks, in its latest statement, echoed the sentiment. "For the first time since August 2010, Mr Assange was finally able to give his statement in relation to this allegation. He has done to in part to ensure the Swedish authorities have no further excuse not to discontinue their preliminary investigation."
Even while its founder has remained in self-imposed exile in the Ecuadorian embassy, WikiLeaks has continued publishing. Most recently, it leaked tens of thousands of internal emails from the inbox of John Podesta, a close aide to US presidential candidate Hillary Clinton.
© Copyright IBTimes 2023. All rights reserved.