Wikileaks Spy Files: 'FinFly' Device Target's Computer Through Apple iTunes Scam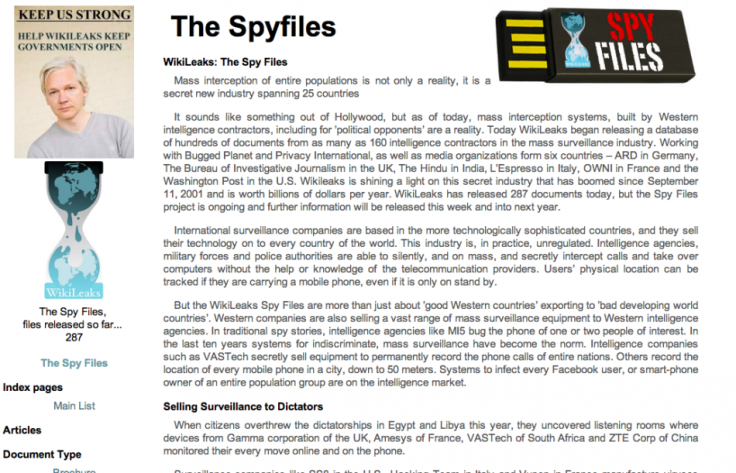 Wikileaks has highlighted a company which produces spying hardware that can give surveillance officers complete access to a target's computer through Apple iTunes.
As part of the 287 documents released by the whistleblowing website, under the name Spy Files, Wikileaks tweeted a link to a short video demonstration early Thursday morning produced by intelligence contractor Gamma Group.
The computer animated video shows how a product named 'FinFly ISP' can be installed into the servers of an internet service provider (ISP); the bug then send a fake software update notification to a user's iTunes application.
Installing the fake update allows surveillance workers to have "full control of the target system".
The video, which is just over one minute long, refers to a police 'agent' installing the device in an internet service provider's server room. The device installs FinFly software posing as an iTunes software update and then anything that the 'target' does can be seen by whoever is monitoring the bugging device.
It is this kind of surveillance that Wikileaks and its founder Julian Assange is strongly against and the website has released the 'Spy Files' in an attempt - along with partners, including Privacy International - to raise public knowledge of the surveillance which it believes is taking place.
In a conference at City University, London last week, Assange revealed the Spy Files to a gathering of journalists and students. During the talk he said that users of iPhone, BlackBerrys and Gmail are "screwed" because companies are apparently recording all conversations, messages and data sent and received from these devices and given to governments.
Simon Davies, founder of Privacy International, told the International Business Times UK that the release of documents by Wikileaks is just the first step in an attempt to make governments introduce stricter and more publicly-known regulation governing surveillance companies.
The former journalists made headlines earlier this week after he won the right to have his appeal against extradition to Sweden taken to the Supreme Court; Assange is wanted by Swedish authorities after two former Wikileaks volunteers made accusations of rape and sexual assault against him.
On Wednesday the Wikileaks Twitter account announced that Assange's Supreme Court hearing had been "rushed forward" and will be heard on December 19.
Wikileaks claims that at least 160 companies are involved in manufacturing and supplying mass surveillance equipment to governments in 30 countries; companies named by Wikileaks include Nokia Siemens Network, NICE Systems and Siemens.
© Copyright IBTimes 2023. All rights reserved.