Despite Donald Trump's reluctance to set foot on British soil unless public protests are somehow banned by the government, protestors are promising to take action. Online, at least, tens of thousands of willing troops have already rallied to the cause.
On Facebook, multiple campaigns have been underway for months. One group, dubbed "Stop Trump", is billed as a grassroots coalition which has pledged to march against any future state visit to the UK. It is supported by Frankie Boyle, Lily Allen and numerous MPs.
"It is our duty as citizens to speak out," the group has said. "We oppose this state visit to the UK and commit ourselves to one of the biggest demonstrations in British history, to make very clear to our government, and to the world, that this is not in our name."
Another protest movement now lobbying on social media, managed by journalist Owen Jones, has gained the support of at least 20,000 citizens and piqued the interest of nearly 60,000 more on Facebook.
A call-to-arms reads: "It's just been announced: Donald Trump is coming to Britain on a state visit later this year. We don't know when. But let's be ready - and be prepared to take to the streets in the most incredible protest in our history."
It's easy to see why Trump fears the long-promised visit to London.
Far from a warm greeting, he is highly likely to face placards, angry faces and bad press from all angles. Before there was even a solid date teased, protests were already announced.
In early December last year, the term "state visit" was watered down to "working visit" following an anti-Trump petition that gained nearly two million signatures.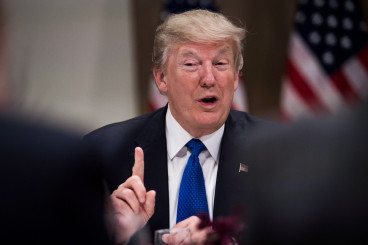 The US commander-in-chief was supposed to visit the UK in February to open a US embassy, but later scrapped the plans via Twitter.
Tensions then spiked after Trump shared extremist and racist content on Twitter first published by members of Britain First, a tiny but controversial far-right group.
Trump blamed the lack of a formal embassy visit on former president Barack Obama.
But even the UK's political elite spoke out against him. Former Labour Party leader, Ed Miliband, said of the cancelled visit: "It's because nobody wanted you to come."
"Many Londoners have made it clear that Donald Trump is not welcome here while he is pursuing such a divisive agenda. It seems he's finally got that message," tweeted London mayor Sadiq Khan. Outspoken MP David Lammy has previously called for mass protest.
At the World Economic Form in Davos, Switzerland this week, Trump attempted to strike a friendly tone with UK prime minister and Conservative leader Theresa May.
"I think the feeling is mutual from the standpoint of liking each other a lot," he said.
Discussing future trade, May responded: "As you say, we had a great discussion today and we continue to have that really special relationship with the United States. We stand shoulder to shoulder because we face the same challenges around the world."
It is believed that 2003's Stop The War protest was the biggest in the history of the UK, with an estimated 750,000 in attendance according to police estimates. While it remains to be seen if the anti-Trump protests will grow beyond that number, the anger and vitriol from large sections of the public is very real indeed, the protest groups indicate.
Far from an alternative fact, Donald Trump appears to be well aware of the truth.