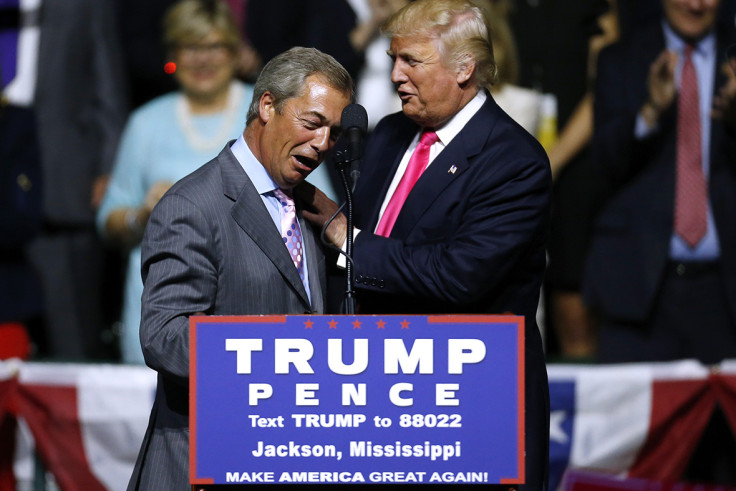 Former UKIP leader Nigel Farage has reiterated the suggestion he would like to take a formal role aiding president-elect Donald Trump.
The Brexit campaigner, who made an appearance at the Republican National Convention, has previously been praised by Trump – who has openly said he believes Farage should be an ambassador to the US.
And in a recent interview with CNN's Michael Smerconish on 3 December, Farage said he: " would like formally or informally to do whatever I can to bring our great nations a bit closer together," in response to a question about the future under Trump.
"And I just happen to know a few people in his administration. I've clearly got Trump's confidence."
For Trump's part, facets of his presidential campaign were inspired by the Brexit campaign, with Trump once tweeting "they will call me Mr Brexit", and he has made his admiration for Farage clear.
The pair met shortly after Trump's election victory, with Farage visiting the president-elect in New York and tweeting about his visit.
Farage tweeted that it was "a great honour" to meet Trump in New York and revealed that the real estate mogul had been open to the idea of placing Winston Churchill's bust back in the Oval Office.
"It was a great honour to spend time with [Trump]. He was relaxed and full of good ideas. I'm confident he will be a good president," he wrote.
"[Trump's] support for the US-UK relationship is very strong. This is a man with whom we can do business.
Both politicians campaigned heavily on more border protection, and both made controversial statements on immigration throughout their respective campaigns.
Farage added in the interview: "I do think the special relationship is very important. It was significantly devalued during Obama's time.
"Post-Brexit we got a chance to start all over again with a president in Trump, who is Anglophile. He is pro-British. He knows the things we've shared together over the years - the good and the bad."