Will Smith has received the presidential seal of approval to play Barack Obama in a biopic. The Men In Black star is a fan-favourite to portray the 44th POTUS in a movie – and it seems Obama himself approves of the choice.
Smith, 48, is the first celebrity to join James Corden in Apple Music's spin-off of the Late Late Show's Carpool Karaoke. In the episode, released on 9 August, Corden asks Smith about the long-running rumours he will portray the former US president's in a future film.
The Hollywood actor reveals: "I talked to Barack about it," before jokingly adding: "He told me he felt confident that I had the ears for the role."
Rumours that Smith would play Obama, 56, first emerged in 2009 – just one year into the president's first term in the White House. Fuelling casting talk, Smith said at the time: "If I am ordered by my commander in chief to star in a film about him, I will do my duty as an American."
Smith's Carpool Karaoke session opens with his 1998 single Gettin' Jiggy wit It before he and Corden, 38, are joined by a marching band for a "surround sound" remix.
Recalling his early career, Smith said: "I wrote my first rhyme when I was 12 but it never got released. The first one got released when I was 16, [titled] Girls Ain't Nothing But Trouble. I had a record on the radio for the last 30 days I was a senior. You cannot beat your friends in high school knowing you have a hit record on the radio."
After delivering his seminal collaboration with Jazzy Jeff, Boom! Shake The Room, the actor then takes a trip down memory lane with the iconic Fresh Prince Of Bel-Air theme tune.
Watch Will Smith's Carpool Karaoke with James Corden:
Reflecting fondly on his years acting in the classic sitcom, Smith said: "Let me tell you what that time represented in my life – complete unbridled freedom. Even with the head move at the door, what is that? Why would I do that? What does that mean? I was in a place where I would say and do anything, that was the most natural I've ever been in my life making the Fresh Prince Of Bel-Air."
Smith then confirmed the rumours that he and wife Jada Pinkett Smith have introduced a Circle Of Safety into their household. The I Am Legend star explained: "We told the kids when you call a Circle Of Safety, you're allowed to say anything and whatever you say in the circle of safety, you can't be punished for.
"When your kids are five, Circles Of Safety are fantastic, wonderful. When you have a 16-year-old daughter you don't want a Circle Of Safety. I've walked out of three Circles Of Safety where I was like, 'That's your mum, you've got to talk to your mum'."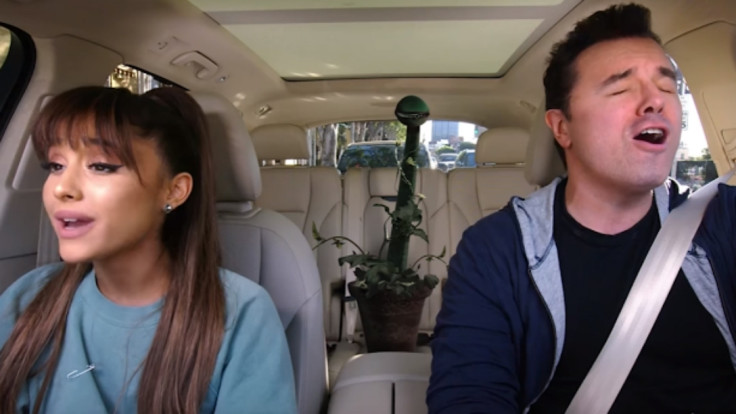 The comedy pair then create a Car Of Safety during which Smith hilariously admits the first time he ever met Corden at an awards show, he pretended to be a fan of the comedian's work but actually had no idea what he did and had to Google him after.
Other antics during Apple Music's inaugural Carpool Karaoke include belting out R Kelly's I Believe I Can Fly during a helicopter ride and gatecrashing a church wedding, where Smith joins the party while splayed out on the bride's dress train.
Corden, who is executive producer of the spin-off, will not appear in every Carpool Karaoke but has a star-studded line-up of celebrities in upcoming episodes. Ariana Grande, Alicia Keys, John Legend, Miley Cyrus and Game Of Thrones actresses Sophie Turner and Maisie Williams are all scheduled to appear.