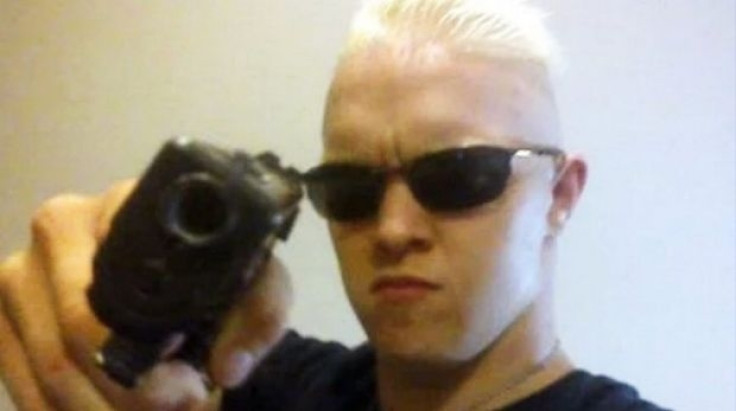 Messages from a white supremacist who stockpiled weapons and plotted to commit a mass shooting at an Australian shopping centre show how he was "fully prepared to shoot cops".
Michael James Holt, 26, pleaded guilty to a string of firearm charges after police discovered homemade guns at his home in Windsor, New South Australia, as well as his grandfather's house in Hobartville and a hotel in Ourimbah in 2015.
Holt described as having an "infatuation" with Neo-Nazi ideology, admitted to plotting an "indiscriminate" mass shooting at Tuggerah Westfield shopping centre and spoke about his desire of shooting pupils and teachers at a school.
He also once told a counsellor that Adolf Hilter is "the greatest person to live", according to an agreed statement of facts tendered in Penrith local court.
Holt later pleaded guilty to possessing and disseminating child sexual abuse images which were also uncovered from the police raids.
During a sentencing hearing in the NSW District Court, more than 40 pages of text messages were read out revealing how he would also be prepared to shoot police officers if he had to "especially American c***s....And then I will kill until I die" reported the South Morning Herald.
In another message from 5 May 2015, he wrote: "I also need a gun that fires multiple times without having to reload."
Another text described how he is "Gonna have to just start killing people if I don't get laid soon."
His barrister, Neha Evans, told the court how Holt had an obsession with guns since the age of five partly as a result of his autism, adding the messages could merely be perceived as "simply a rant" from mentally unwell man.
Judge Jeffery McLennan responded by saying Holt could feasibly have become the next Martin Bryant, the mass murderer responsible for Australia's worse ever mass shooting after killing 35 people in the 1996 Port Arthur massacre.
McLennan added: "The combination of someone who has this obsession with firearms, his interest in child pornography and the kind of expressions [contained in the text messages], I must say I regard, personally, as deeply disturbing."
Holt is due to be sentenced on 29 September.