Will you be eating black ice cream this summer?
Memories of summer are always replete with images of huge cones laden with fresh, pastel-hued ice cream but this year the hot-weather staple is getting a radical make-over. Proving that everything looks great in black, the new trend that is taking over from the rainbow food explosion on Instagram is charcoal ice cream that is jet black and extremely eye-catching.
New York parlour Morganstern's have become legendary for the new monochrome dessert served in a sugar waffle cone and looks fantastic on social media with a delicious secret ingredient.
Nick Morganstern, who came up with the new striking flavour at his New York ice cream parlour discovered a fantastic ingredient to create the jet black colour and it doesn't involve squid ink, sesame seeds or any other traditional food dye for that matter.
Speaking to Mic, Morganstein revealed that "it's simply the charred and processed remains of a coconut shell", which is then combined with coconut milk, coconut cream, and coconut flakes. The result is a really rich and creamy coconut flavour.
Whilst the charred remains of a coconut might not sound like an appetising treat it has proven to be a real winner and something Morganstern likes as it is all natural.
"Activated charcoal is just something organic that has been charred and processed with high heat so that it behaves like a filter," he explains. Charcoal in its purest form has been celebrated recently for its health benefits and detoxifying properties, but whilst this remains unproven it has not stopped people eating more and more of it as well as using it as a water filter.
Whilst at the moment the closest you'll get to Morganstern's black ice cream in the UK is on Instagram, it is a craze that has popped up over here as well.
Kraken Rum's #Iscreamforkraken tour is currently doing the rounds in an alcoholic ice cream van serving pitch black ice cream to match their dark rum in major cities including Leeds, Liverpool and Edinburgh after launching recently in London.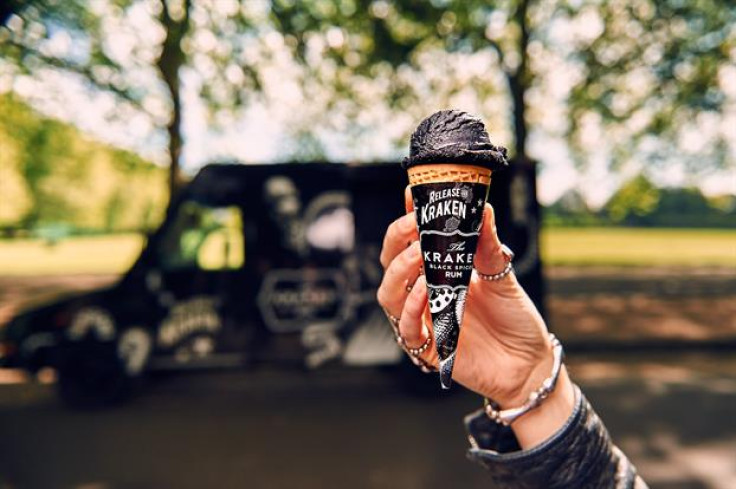 The only thing you do have to watch out for with these millennial treats are the marks they leave behind. Anyone for stained lips and tongues?
Morgansternsnyc.com
The Kraken Rum van will be appearing at Constellations in Liverpool (9 June), Slate NQ in Leeds (10 June), Three Sisters in Edinburgh (12 June) and Bloodstock in Derby (11-14 August).
© Copyright IBTimes 2023. All rights reserved.