In a proposal believed to be the first of its kind, an Australian MP turned to his gay partner sitting in the Parliament's public gallery and asked, "Will you marry me?" All this while the important same-sex marriage debate was underway in the House of Representatives on Monday (4 December), five days after the Senate cleared the bill.
"In my first speech, I defined our bond by the ring that sits on both of our left hands," Liberal MP Tim Wilson said during his speech, referring to his long-time partner Ryan Bolger.
"They [the rings] are the answer to the question we cannot ask. There's only one thing left to do; Ryan Patrick Bolger, will you marry me?" Wilson said amid cheers and applauds from his fellow parliamentarians.
Bolger's response was quick. He broke into a broad smile and said "yes" to Wilson's proposal. "We'll chuck [put] that in the memoirs and in Hansard," a tearful Wilson replied.
"We should let Hansard note to record that was a 'yes', a resounding 'yes'," Rob Mitchell, the deputy speaker told the chamber after congratulating the couple.
Wilson is believed to be the first MP to propose in the house of parliament, an Australian official told the BBC. The couple had been engaged for nearly nine years and Wilson has been a strong supporter of the marriage amendment bill.
Australia is preparing to legalise same sex marriage this week after 62% of the country's people supported the change during a national voting on the controversial issue. Some 38%, however, rejected the proposal.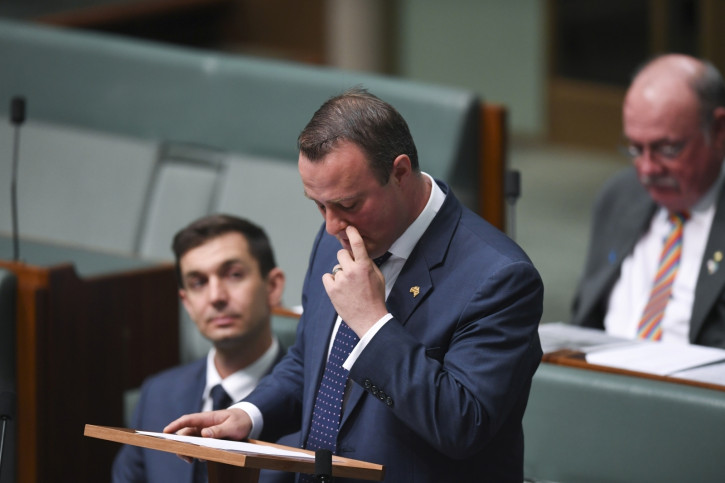 Prime Minister Malcolm Turnbull told the Parliament recently that he was the nation's first leader to be "consistently in support of legalising same-sex marriage", according to The Telegraph. "Let's be honest with each other, the threat to traditional marriage is not from gay people but a lack of loving commitment, whether found in the form of neglect, indifference, cruelty or adultery — to name just a few manifestations of that loveless desert in which too many marriages come to grief," he had said.
"Co-dependency is a good thing [and] gay people are better off together then living alone comforted only by their respective cats.
"The message today, to every gay person in this nation, is clear. We love you, we respect you, your relationship is recognised by the Commonwealth as legitimate and honourable as anybody else's," Turnbull added.