Novak Djokovic has said he will apologise to a Wimbledon ball girl after shouting at her during his match against Kevin Anderson.
The top seed couldn't hide his frustration after losing a 20-shot rally against the South African.
3-2 down, as he succumbed to the pressure of the game and the effects of the humid conditions, Djokovic snapped at the ball girl as he demanded a towel.
He startled the teen as he shouted at her: "Towel!" After he wiped his brow, he threw the towel in her direction before continuing the match.
While it was a happy ending for Djokovic, who went on to win the fourth-round match 6-7 (6-8) 6-7 (6-8) 6-1 6-4 7-5, it might not have been quite so memorable for the poor ball girl who was the unwitting recipient of his wrath on the court.
Speaking after the match, Djokovic apologised, explaining that the outburst was not directed at her.
"I'm sorry. There was nothing towards her. Maybe she was just afraid of my screaming there," he said. "Sometimes it's just good to scream and let it all out, because that's the way I work. I was pretty close to her. I'm definitely going to try to apologise to her if I did something wrong."
The year's tournament has already had its fair share of sports stars courting controversy.
Maria Sharapova was earlier accused of unsportsmanlike behaviour by Coco Vandeweghe.
The US tennis star complained to the chair umpire about Sharapova's movements during her second serve in the Centre Court clash. However, the official disagreed and took no action and Vandeweghe ultimately lost to her opponent in the quarter-finals.
Speaking at a news conference after her defeat, she said: "What I experienced, what I felt from her moving around in between my serving motion was not, I don't think, sportsmanlike, in my opinion."
"I try to play as fair as I can. When I felt like it wasn't being reciprocated, that's when I spoke with the umpire for her to deal with," she added.
Sharapova denied the accusations, claiming she did not feel she had done anything wrong.
"I mean, it is what it is. What she said, I'm not going to argue against her words," the Russian said.
Meanwhile, Nick Kyrgios faced a backlash after he was heard swearing during his fourth round loss to Richard Gasquet.
After losing the first set and a poor show in the second, the 20-year-old faced boos and jeers from the crowd as he appeared to sulk through the third game, barely appearing to attempt to return the Frenchman's serve.
The Australian was fined following heated exchanges with the umpire and was accused of "tanking", or giving up.
During a heated news conference, Kyrgios denied "tanking" the game, saying: "Of course I tried" and "I did move".
"Do you want to try to return Richard Gasquet's serve?" he asked a reporter. "I'll give you the racket and we'll see how many times you can return his serve."
Kyrgios was criticised for his attitude, with Australian swimming legend Dawn Fraser commenting that she found his behaviour "disgusting".
However, the Olympian also found herself in hot water after she suggested Kyrgios and Bernard Tomic should "go back to where their parents came from" if they were not prepared to change.
Fraser later apologised for her comments stating: "I want to unreservedly apologise for any comments that I made this morning which may have caused offence to my fellow Australians including Nick and his family."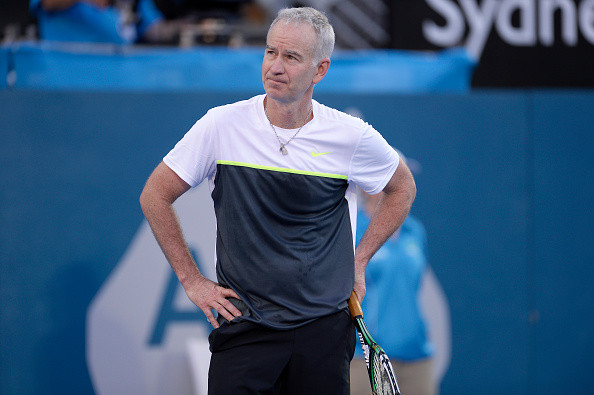 While tempers are known to flare on centre court, few on court outbursts compare to those of legendary American tennis star John McEnroe.
The former world Number 1 became as famous for his tantrums as his tennis after a a series of tempestuous exchanges during the Wimbledon tournement in 1981. Following his first-round match against Tom Gullikson, McEnroe was fined $1,500 after he called umpire Ted James "the pits of the world" and then swore at tournament referee Fred Hoyles. He was also synonymous with the phrase "you cannot be serious", after he challenged several umpires' calls during his matches. In Stockholm in 1984 he famously called the Umpire a jerk for what he deemed a poor call.
He was dubbed 'Superbrat' for his arrogance but was also hailed as a tennis icon after winning seven Grand Slam singles titles (three at Wimbledon and four at the US Open), nine Grand Slam men's doubles titles, and one Grand Slam mixed doubles title. He also won a record eight year-end championships, 19 Grand Prix Super Series titles, and finished his career with 77 ATP-listed singles titles and 71 in doubles.
The American tennis champion is today a respected commentator.