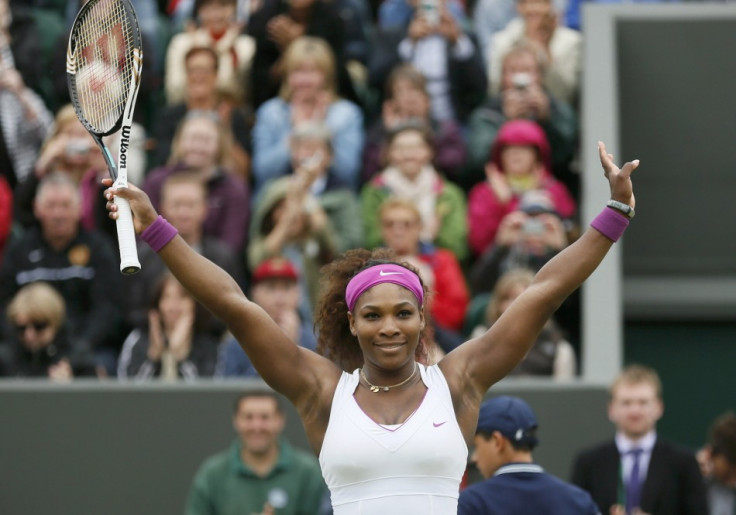 Former world number one Serena Williams is on the verge of making the best possible comeback to professional tennis after a series of health problems sidelined the American for the last couple of years. The sixth seed at the 2012 Wimbledon Championships will be given a chance to make it a perfect one when she plays third seed Agnieszka Radwanska, the first Polish player to reach a Grand Slam decider in 75 years, on Saturday evening.
After a 6-3, 7-6 (6) over second seed Victoria Azarenka in the semi final, Williams looks confident and is considered the overwhelming favourite, heading into the final. The hard-hitting American is a four-time Wimbledon winner and a six-time finalist. Her serve has been fantastically effective this tournament, registering a whopping 85 aces in six matches - 51 more than any other woman in the draw.
Meanwhile, third seed Radwanska comes into this match after an impressive semi final victory over eighth seed Angelique Kerber. The 6-3, 6-4 win proved the Polish woman is more than capable of causing an upset. Williams will have to deal with a player who rarely makes mistakes; the Pole committed just six unforced errors in the semi final.
However, Radwanska has had her health problems too. She is battling an upper respiratory illness that makes it difficult to speak and forced her to cancel the press conference on Friday, raising questions about her fitness levels ahead of the final. Radwanska and her younger sister, Urszula Radwanska, forfeited their women's third round doubles match on Wednesday because of the illness.
Illnesses aside, Radwanska should be motivated by the fact she will play her first Grand Slam final on Saturday; her previous best was limited to quarter final appearances. On the other hand, Williams now has 18 singles finals to her name, with 13 titles.
Incidentally, if Radwanska wins, she will become world number one. However, if sixth seeded Williams takes the crown, her semi final opponent- Victoria Azarenka - will take top spot from Maria Sharapova.
Where to Watch Live
You can follow all the action live, from 1.45 pm BST on BBC One, BBC Two, BBC HD, BBC Red Button and BBC Radio 5 Live. For country specific and broadcasting details and times, check out the BBC television programming Web site. You can also follow the matches live on Wimbledon's official Web site.