The latest build of Windows 10 Technical Preview contains references to Cortana digital personal assistant.
Last week, Microsoft confirmed the release of a new Build 9879 for Windows 10, which is available to the Windows Insider Program. In order to access it, you will have to navigate to Windows Update and check for the new update. Once again the Build 9879 has numerous changes, some noteworthy features, also a few gotchas to be aware of.
As has been spotted in the leak, Build 9879 lets you to hide the 'Search or Task View buttons' on the taskbar. Just right-click on the taskbar and uncheck the check boxes for the buttons you want to hide.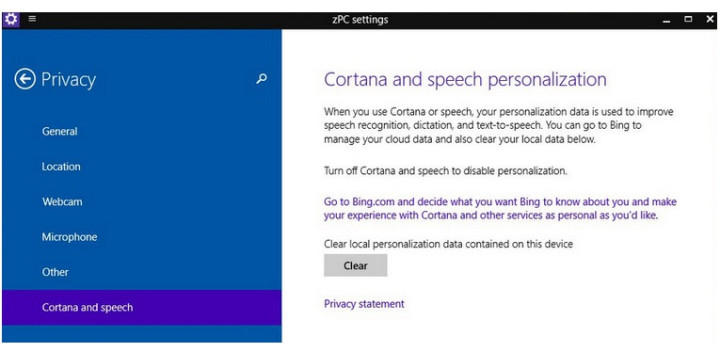 Neowin has spent some time extracting a few more details about the 9879 Build and reports that new features of Cortana, which seem to be functional, can be found under zPC settings app. (Check out the above photo.) You can turn off Cortana and speech to disable personalisation.
These settings are in the privacy section of the zPC settings app. The settings allow clearing local personalisation data on the machine related to Cortana. It makes sense that Microsoft will now allow users to clear the data if they don't want them to be stored locally, as Cortana learns about user's habits, locations as well as preferences.
Also, you will have to go to Bing.com to clear cloud data. This is not a new change as the Windows Phone version of Cortana has this feature for clearing cloud based information.
This information, however, is an indication that we will get to see Cortana features in the next Windows 10 Build.