Winston Churchill's bust returns to Oval Office in apparent nod to 'special relationship'
Obama caused an outrage when he replaced the bust with Dr Martin Luther King Jr's.
In an apparent nod to the "special relationship" between the US and the UK, President Donald Trump has restored the bust of Sir Winston Churchill to the Oval Office.
President Barack Obama caused outrage when he removed the bust and placed it in another part of the White House, replacing it for a bust of civil rights leader Dr Martin Luther King Jr.
However, the former UK prime minister's renewed presence could be seen back in its former spot as Trump, in one of his first official acts as president, signed an executive order to unravel the Affordable Care Act – Obama's flagship healthcare law.
The sculpture of Churchill first appeared in the Oval Office during George W Bush's presidency, after it was gifted by Tony Blair.
When Obama took office in 2009, he moved it outside the Treaty Room. The move caused speculation he was throwing dirt on the US-UK alliance, despite the Treaty Room being part of the president's private residence.
In turn, UK foreign secretary Boris Johnson caused his own controversy when he blamed the swap on Obama's "ancestral dislike of the British empire".
Obama denied he had snubbed Churchill or the Anglo-American relationship.
In 2016, he said: "I thought it was appropriate that as the first African-American President, it might be appropriate to have a bust of Dr Martin Luther King in my office to remind me of all the hard work of a lot of people who would somehow allow me to have the privilege of holding this office."
He added that Churchill was moved outside the Treaty Room "so that I see it every day, including on weekends when I'm going into that office to watch a basketball game, the primary image I see is a bust of Winston Churchill.
"It's there voluntarily, because I can do anything on the second floor. I love Winston Churchill, love the guy."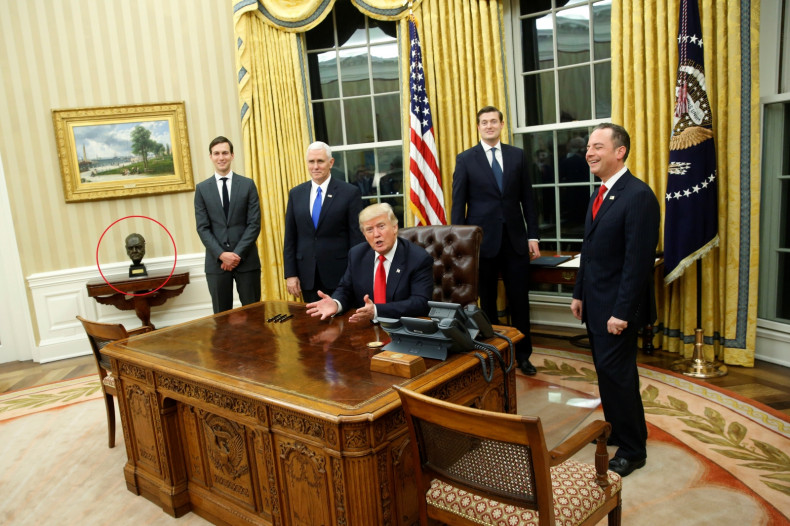 It was originally reported that King's bust was removed from the Oval Office under Trump. However, it was simply not seen by White House reporters as it was obscured by a door.
Trump's new press secretary Sean Spicer was quick to correct the Time Magazine reporter who said it was removed and used it as an opportunity to warn other media outlets of how they report on the 45th president.