Athletes competing in the 2014 Winter Olympics are skiing, ice skating or playing hockey on the site of an alleged genocide that is still an open wound to the people who suffered it. They are the Circassians.
"For us it's like if someone wants to organise the Olympic Games at Auschwitz, can you imagine that?" Sencer Shumaf, a member of the NoSochi2014 protest movement told IBTimes UK.
Envisioned as a moment of peace among nations in ancient Greek times, the Olympic Games have rarely been so divisive.
Championed by Russian President Vladimir Putin the Olympics have come under fire from a number of different groups ranging from LGBT activist to environmentalists.
Circassians have been opposing them since before the games were awarded to the Black Sea city, which they say is their former capital.
"Now they are presenting it [Sochi] as southern Russia's Riviera or something like that," Shumaf said. "It's like a PR activity; probably the most expensive PR activity in history."
More than $50bn (£31bn) were reportedly spent to turn the subtropical seaside town in a Winter Olympic wonderland.
"Russia is aiming to cover up the truth," the activist said. "They want to remove any trace of history so they can claim this land as part of a new Russia."
The region was conquered by Czarist troops in 1864. Circassians, who are predominantly Sunni Muslims, say punitive raids and ethnic cleansing carried out by the Russian during and after the conflict amounted to genocide.
Historians estimate that more than 600,000 Circassians were killed and at least as many deported to the Ottoman Empire.
Whitewash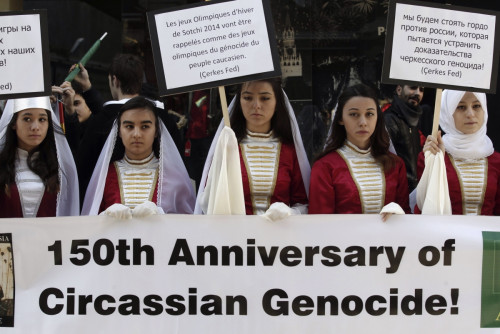 The Olympics make a complete whitewash of Circassians' tragic history, the activist says.
"The history of the city dates back to the 5th century BC," a brief history of Sochi on the Olympics official website reads. "Then Caucasian people lived there, and in the mid-19th century the active development of these areas by the Russian state began.
"Soon sea bathing came in vogue causing Sochi to turn into a Black Sea resort."
As Sochi was put forward as Russia's hope for hosting the Olympics Circassians, most of who live abroad started to campaign for the games to be go somewhere else.
In 2007 Russian won its bid and Shumaf and other activists started the movement NoSochi2014 to raise public awareness of the genocide and of the problems afflicting Circassians living in Russia and abroad.
The related website NoSochi2014.com was hacked on the eve of the games.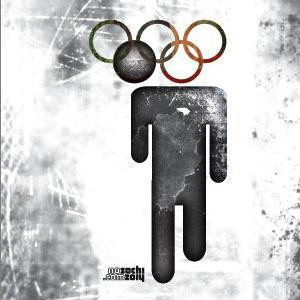 Some Circassians living abroad following the diaspora would like to go back, but to obtain a resident permit is almost impossible, Shumaf said.
Also many that lived in today's Syria and have been attempting to return in a bid to flee the ongoing civil war there. But their requests have been turned down by Russian authorities, he said.
Another 700,000 Circassians live in Russia, scattered across three different provinces.
"This structure was designed by Stalin as part of his divide and rule policy," Shumaf, a 34-year-old Circassian who was born in Turkey and now resides in Germany said.
Circassians would like to be reunited into one single self-governing administrative region.
"Also there is no democracy or freedom of speech," Shumaf said.
In Sochi, Russian authorities have set up dedicated "protest zones" in quiet areas kilometres away from the Olympic park.
NoSochi2014 organised demonstrations in numerous cities across the world - including London and New York to mark the Olympics opening.
One of the rallies in the city of Nalchik, some 400km north east of Sochi, was broken up by Russian police who arrested a number of activists, the group said.
They were waving flags that read "Sochi – the land of Genocide".