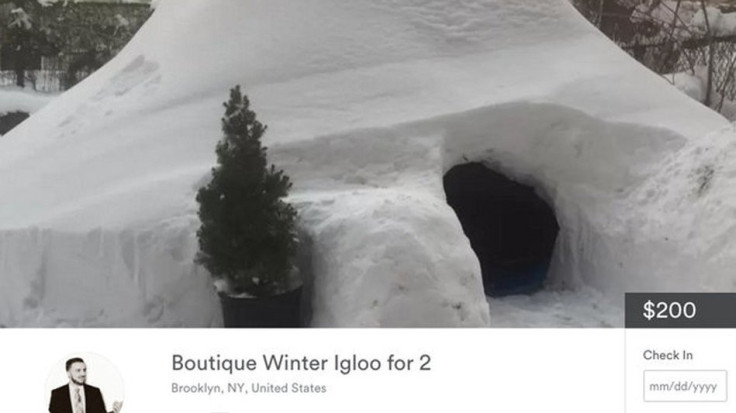 One enterprising Airbnb host who took advantage of Winter Storm Jonas to build an igloo in which a nightly stay would cost $200 (£141) has had his idea rejected by the company, proving that there are limits to what homeowners can rent out.
Airbnb managers determined that the rental in the backyard of Brooklyn resident Patrick M. Horton did not fulfil the company's "occupancy standards." Horton offered his blizzard creation as a "Boutique Winter Igloo for Two" that was perfect place "to chill." He also boasted it was "dripping with ingenuity and alt-lifestyle aura," and branded it "this Snowpocalypse's most desirable getaway."
To take the sting out of his Airbnb ejection, the company did note that the icy bungalow appeared to be "very well constructed," Horton, 28, tweeted. Airbnb also offered the igloo-builder a coupon for a guest stay somewhere. "Be sure to pick a place with running water, electricity, and a roof that doesn't melt," chortled the Airbnb manager who sent an email to Horton.
Horton told Esquire that five people contacted him for the snow digs before the offer was nixed by Airbnb.
For those determined to stay in an igloo, there is one still available on Airbnb for $1,000 (£703) — in Alaska. There are several other igloos as well that apparently meet the company's occupancy standards.
It was not all smiles in the wake of the deadly winter storm though. US East Coast residents were still digging out of the record snowfall, while others were struggling with power outages and flooding.
The storm was barreling toward Britain with winds of up to 76mph and expected to dump rain and trigger floods.