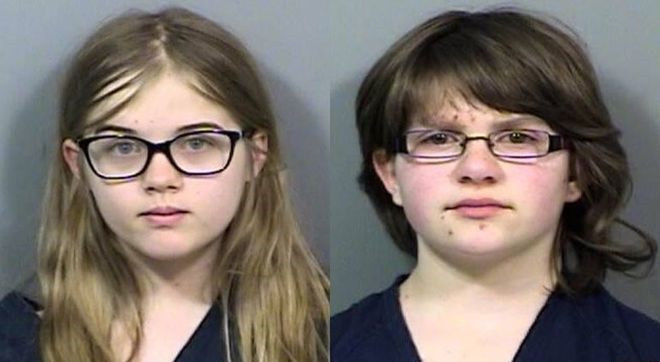 A teenager originally facing a charge of first-degree attempted intentional homicide for killing a classmate when she was just 12 years old has pleaded guilty to a lesser charge.
Now 15, Anissa Weier is accused with her friend, Morgan Geyser over their role in a 2014 stabbing attack in Waukesha, Wisconsin, formulated around the internet myth of Slender Man.
"I believed that if I didn't go through with it, Slender Man would come and attack and kill myself, my friends and my family. Those I cared about the most," Weier told the court, ABC News reported.
Geyser and Weier are accused of stabbing Payton Leutner 19 times in the woods before leaving her there. Leutner managed to crawl out of the woods after the incident and was found.
Geyser is still pleading not guilty by reason of insanity. Weier's new stance reportedly means that her trial will now focus on whether or not she was mentally ill or not, and therefore responsible for the crime.
Weier faces a lesser charge of attempted second degree homicide as a party to a crime, with use of a deadly weapon.
In an interview near the begining of 2017, Weier parents told of their continuing shock at what their daughter was accused of doing. Weier's mother, Kristi said that the two girls "thoroughly believed that Slender Man was real and they wanted to prove that he was real".
Though both girls were 12 at the time of the attack, they are being tried as adults under state law.
The Slender Man story was started in dark corners of the internet and perpetuated into a growing mythology centred around a tall, pale skinned, faceless man in a black suit who appears in the back of sepia-tinted photographs as an omen of some event to come.