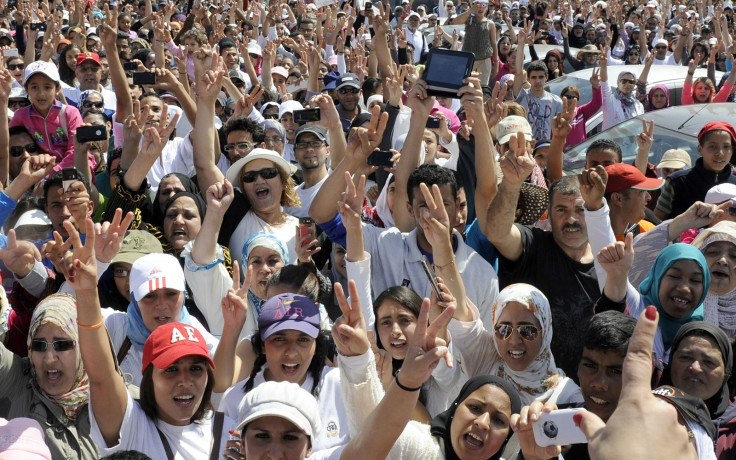 Six teenagers have been arrested in Morocco after a video emerged online seemingly showing a group of boys sexually abusing a young woman with learning difficulties on a bus.
The video, which shows four boys laughing as they tear off the woman's clothes and insult her in Arabic, has sparked outrage and reignited a debate about women's rights in Morocco.
The woman, who police said has learning difficulties, is seen in tears and crying for help. Neither the bus driver nor the other passengers appear to intervene as the men attack her.
Public transport company M'Dina Bus said the attack took place on Friday evening (18 August). The company said in a statement that they could not confirm that the driver had "failed to react".
The video was published on social media two days later. Police said neither the victim nor the driver filed a complaint before the video was released.
On Monday (21 August), Moroccan authorities said they had arrested six boys aged 15 to 17 for their "presumed implication" in the attack on the woman.
Moroccan charity Don't Touch My Child called on witnesses to come forward and "bring to justice this barbaric horde who shamefully attacked a young woman".
The brutal attack sparked widespread condemnation in Morocco.
"This is unbelievable! It looks like we're living in the jungle now, because this is not sexual harassment, this is gang rape in a public space in front of everyone!" Fouzia Assouli, head of the Moroccan Federation of the Democratic League of Women's Rights, told Morocco World News.
"Isn't the government supposed to assure the security of its citizens?! What does it mean to have people witnessing such a crime without moving a finger?" she asked.
Journalist Yasmine Khayat described the attack as a "grandiose failure of a whole company".
"Kids are openly abusive, smiling lips. Someone is filming with impunity instead of providing assistance to a girl in danger," she wrote on Facebook. "The bus driver is complicit. She could have been me, you, our daughters, your sisters, or your mother. But no it's true, we do not take the same bus, we do not attend the same schools. We do not live in the same neighbourhoods."
Prominent human rights activist Ensaf Haidar tweeted: "Welcome to the Arab world! Bus passengers cheer as woman is stripped & gang raped."
But others blamed the woman for "provoking the men with her indecent clothing".
One man wrote on Facebook: "I condemn the act but cover yourselves up, this one was easy to undress."
Less than two weeks ago, another video emerged on Moroccan sites showing a large group of men following a woman walking alone in the city of Tangier.