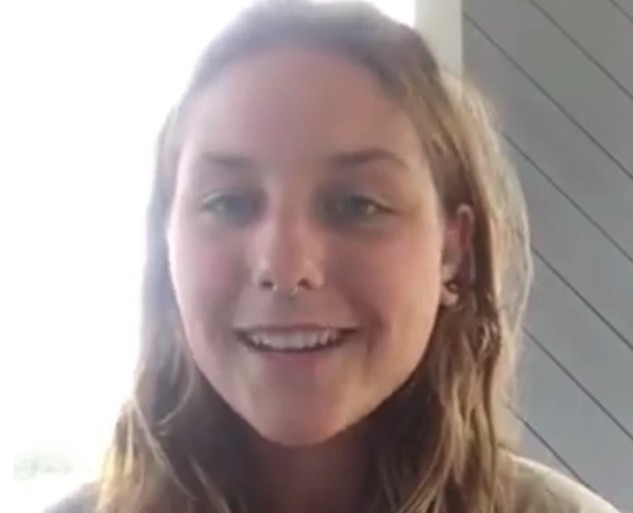 A woman who made international headlines after she was filmed attacking a man who groped her breast at a music festival is set to lead a protest against against sexual harassment.
A festival-goer sexually assaulted Madeline Anello-Kitzmiller, 20, at the Rhythm and Vines festival in New Zealand on New Year's Eve. Footage of the incident appears to show she and friend Kiri-Ann Hatfield responded by throwing their drinks over the man, and hitting him.
Anello-Kitzmiller, from Portland, Oregon, in the US, was sporting the "glitter boob" beauty trend at the time, where the chest is covered in sparkles and gems. She has since stressed that a person's clothing is not an invitation for non-consensual touching.
In a video posted on Facebook, Anello-Kitzmiller recalled how nudity was encouraged in some parts of the festival, and that both men and women were topless.
"I want to ask you what is the difference [topless men and women]? The difference is women have been oversexualised for way too long and it needs to stop," she said in the video.
A Glittery March For Consent will be held on January 28th in Auckland at a location yet to be decided, according to a Facebook event page.
"We are marching in Auckland together, to stand in solidarity with each other and for anyone who has ever been the victim of sexual assault, victim blame, anyone who wants to stand up and say this is my body and these are my rights," the event page read.
"Nobody has the right to touch you without your consent - it does not matter what the circumstance may be, your body is yours, and nobody has the right to take that away from you," it continued. "It does not matter how you identify your gender or sexuality. It does not matter what you are wearing. It does not matter if you changed your mind. No means no."
"We want everybody to know that we refuse to tolerate sexual assault and we will not accept excuses for it. [...] We march to make a stand, will you stand with us?"
"I stand by my actions and hope that I've inspired women to feel comfortable in their bodies, no matter how they look, and to stick up for themselves when anybody says otherwise or tries to deny you the right to protect your own body," she told Daily Mail Australia.
She added: "He grabbed my breast. I hit him. There was a lot of built-up anger coming from harassment throughout the day. This happens everywhere, not just New Zealand."