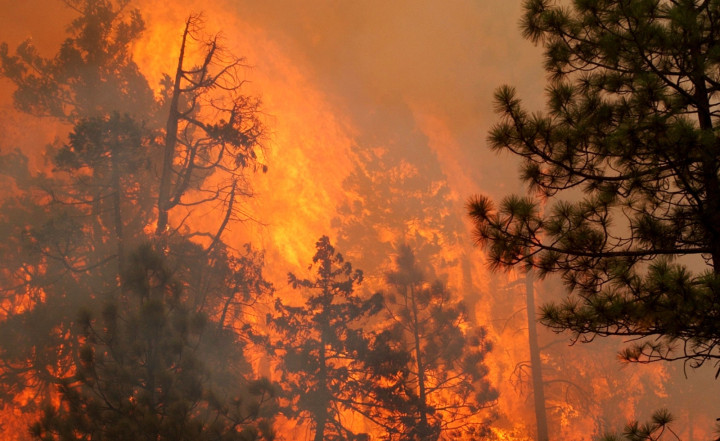 A woman started a wildfire that cost nearly $8m (£4.8m, €6m) to bring under control, because she thought that her firefighter friends were 'bored'.
Sadie Renee Johnson of Warm Springs, Oregon, used a lighter to ignite a small firework and threw it from a car she was riding in with two younger brothers into the roadside brush.
The blaze, which started in July 2013, on the Warm Springs Indian Reservation, spread to about 80 square miles (51,000 acres) and was not fully extinguished until September.
"Like my fire?" Johnson wrote on her Facebook page, two days after starting the blaze.
When questioned by detectives, Johnson said that she only started the fire because she thought that her firefighter friends were bored and needed work, and she never thought that it would become so big.
The details of the case were released on Friday by the US Justice Department, who according to KTVZ-TV, were keen to underscore the danger of reckless actions during the wildfire season.
Playing with fire
The 23-year-old, who pleaded guilty in May, is due to be sentenced on September 3.
She faces a maximum sentence of five years in prison.
It is not the first time this year a devastating blaze has been caused by someone playing with fire.
In July, a Seattle man using a blowtorch to kill spiders in the laundry room of a rented house he shared with his mother, stating a blaze that caused $60,000 damage.
Kyle Moore, a Seattle Fire Department spokesman told Herald and News the man had used a spray paint canister and lighter as a "self-made blowtorch."
"I don't want to encourage people to do this, but that's what he did," Moore said. "The spider tried to get into the wall. He sprayed flames on the wall, lit the wall on fire, and that extended up to the ceiling."
"There are safer, more effective ways to kill a spider than using fire," Moore said. "Fire is not the method to use to kill a spider," said Moore, and added that he did not think the spider had survived the blaze.