Woman wearing shorts barred from entering Malaysian hospital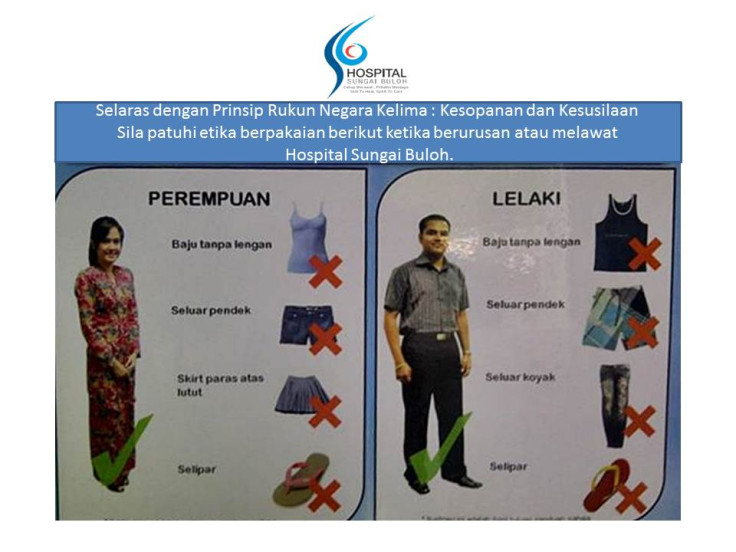 A woman was forced to tie a towel around her waist before she was allowed to enter a public hospital in Malaysia to visit a relative after security guards at the entrance said her attire did not comply with the dress code.
The woman was reportedly stopped by security at the Sungai Buloh hospital visitors' gate on 16 June for wearing shorts.
It was only after her father, who was with her, borrowed a patient's towel from one of the wards to tie around her waist at the guardhouse that she was allowed to enter the hospital grounds.
When questioned, the security guards said the ruling was an instruction from the Health Ministry.
The Star said that pictures of the woman with the towel around her waist have gone viral on social media.
The Star said the hospital director Dr Khalid Ibrahim has since apologised, saying it was neither the Health Ministry nor the hospital's policy to stop anyone from going into the hospital based on their attire.
"We do apologise for the incident. It shouldn't have happened. We do not bar any visitors from entering the hospital because of what they are wearing. However' we encourage the public to dress decently when visiting patients," he told the Star.
The director said there could have been some miscommunication and that a complaint has been lodged with the company dealing with hospital security.
The hospital however does have a dress code on its website and displayed at the hospital's foyer. The dress code clearly bars both men and women from wearing slippers. Women are also not allowed to wear sleeveless tops, shorts and short skirts. Men are not allowed to wear torn jeans, sleeveless tops and shorts.
Not the first time
This is however not the first time that women's attire in Malaysia has been highlighted in social media.
On 23 June, two women were forced to wear sarongs to cover themselves before they were allowed to enter the Selangor State Secretariat building. Both of them, one of them a journalist, were wearing outfits that were slightly above their knees.
Another woman was denied entry into the Gombak Road Transport Department office because she was wearing a skirt the was above her knees. Similarly, she was given a sarong to wear before she was allowed entry.
© Copyright IBTimes 2023. All rights reserved.