Urban Outfitters putting out a controversial T-Shirt comes as no surprise to anyone. With a track record that includes selling a mock blood stained Kent State sweatshirt and a shirt that resembled the uniforms worn by gay prisoners at Nazi concentration camps, the brand are often called up for questionable design. Their latest foray into the political sphere is as lucrative and risky.
Ordinarily you tend not to see multi-million dollar worldwide brands weighing in on political debate but the American presidential race has proved to be a tempting source of revenue for this clothing brand, who are currently selling a range of products which mock Republican nominee Donald Trump.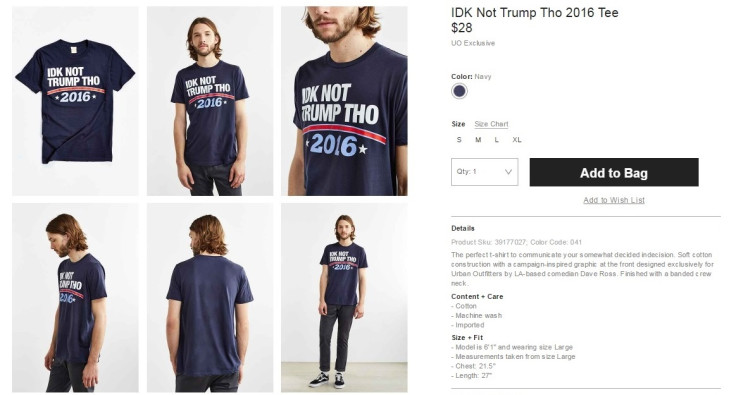 The main design is the slogan "IDK NOT TRUMP THO." Exclusive to Urban Outfitters, the phrase which is shorthand for "I don't know. Not Trump, though" — is available to buy on a T-shirt, mug or sticker in store and on their website. These items are also joined by an anti-Trump pin reading 'Trump 20NEVER'.
The design was not created by Urban Outfitters, but was thought up by US Comedian Dave Ross originally who had the slogan printed and placed outside his house. Ross was also previously selling T-shirts with that design on his own site idknottrumptho.com before Urban Outfitters contacted him about a licensing agreement.
Speaking to CBS, Ross said "The licensing company told me that this is one of the most successful designs they've worked on with Urban Outfitters," Ross said. "They did a preliminary run of 300 T-shirts, which sold out in less than one day, and the next order was for thousands."
The store have not limited themselves just to anti-Trump merchandise though but have reaffirmed their political affiliation with a range of pro-Hillary Clinton merchandise, including a T-shirt reading 'Hillary - Runnin' Thangs' which is on sale for $28 (£21.50) as well as Hillary Leather tote bags for $129.00 (£98) and ranging all the way up to Time magazine portraits of Class Leader Hillary Rodham Of Wellesley College, that are priced between $279.00 (£212) to $599.00 (£454).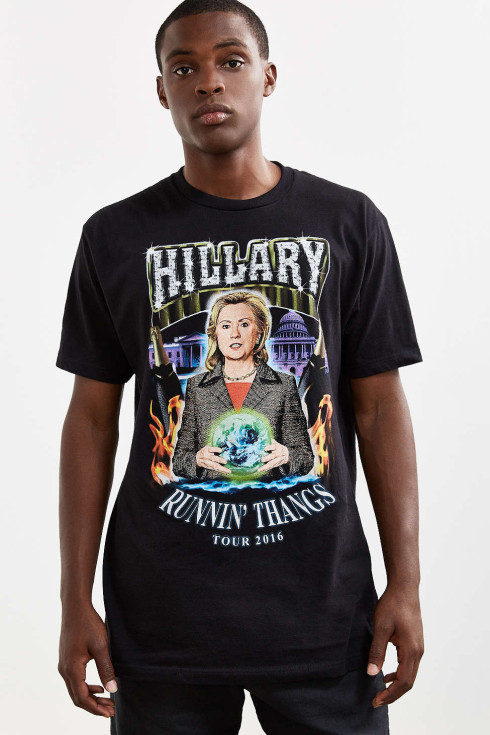 For those looking for a little light reading, you can also pick up the book titled, 'Quotations From Chairman Trump,' written by Carol Pogash. The description reads "A collection of Trump's quotes from the stump, including his successes and other people's failures. Read Trump on 'dopes' and 'clowns,' intelligence (his own), stupidity (others). Trump's words are preserved here both as a public service and as a keepsake. Unfiltered. Unabridged. Unauthorized. Unbelievable."
The item is designed in a similar fashion to the Little Red Book by Communist Chinese dictator Mao Zedong titled infamous Quotations from Chairman Mao Tse-tung – certainly a contrast to the collectors pieces on sale in honour of Hillary.
Evidently, Urban Outfitters are pitching into the hands of their younger audience. The store's target market is 18-28 and according to the latest Harvard Institute of Politics polls, 61% of this age group want to see a Democrat in the White House compared to 33% voting for a Republican.
Below the voting age though, it is still fashionable to not like Trump. With everyone from Johnny Depp to Meryl Streep satirising him, the Republican candidate has become a comical figure to the younger generation – fitting neatly into Urban Outfitter's appeal.
Where this political stance doesn't fit though is with the brand's CEO, Richard Hayne who, in the past, has been criticised for donating thousands of dollars to Republican then-Senator Rick Santorum. Breibart have also noted that Payne gave the maximum contribution allowed to then-Republican presidential nominee Mitt Romney and also donated $30,800 to the Republican National Committee.

While the presidential race is far from over, Urban Outfitters will be able to cash in on the action for another few months at least.