An Australian doctor who joined the Islamic State (Isis) terror group in Syria was increasingly frustrated about the group's treatment of animals and refusal to donate to orphans.
The revelations are contained in the diary that Tareq Kamleh – later dubbed as "Dr. Jihad" – reportedly kept as he lived in Raqqa, recently retaken from Isis by Syrian forces and a US-led coalition.
The 31-year-old pediatrician from Perth, capital of Western Australia, often appeared in Isis propaganda videos, urging fellow Muslims to take up arms and join the group.
In spite of his repeated claims he was happy he had joined the group, the man often complained about life under Isis, according to Macer Gifford, who recovered the diary.
Gifford, a British former currency trader who fought against Isis with a Kurdish militia group, told Fairfax Media he found the diary and other possessions believed to belong to the doctor in a house where he spent one night as Raqqa was under siege last month.
"I don't think he was a particularly happy character ... He didn't seem to be getting on with people there very much," Gifford said.
Describing the doctor as an "American Psycho-type man", Gifford continued: "Of all the things that Isis has done, brutally murdered people and blown up homes, here was a guy who, it seemed, had had half his brain removed. Half of it was dedicated ... but his sense of empathy, right and wrong, was way off.
"He even complained about other jihadis ... being cruel to animals around him and said it didn't give him much hope for the future of the caliphate because the level of cruelty towards animals – hitting dogs and so on – that he saw in the society made him upset."
Kamleh's whereabouts are not clear. The man was known in Australia for being a charming but manipulative man, and a womaniser.
Former colleagues described him as a man who had no interest in Isis and enjoyed drinking alcohol and the company of women.
Gilford also explained that Kamleh had become involved with a local orphanage and was frustrated as fellow Isis militants did not want to give donations to the institution.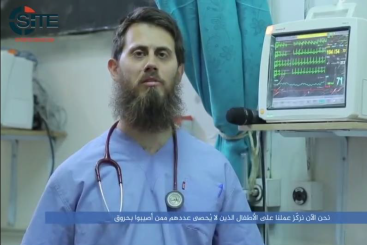 "He didn't like the way he was getting no support, he didn't like the way people weren't giving any money. His exact words were, 'I despair for the future of the caliphate.'"
Gilford, who handed over the diary to Kurdish militants, said Kamleh was obsessed with his health and kept a record of his workouts.
"Just a neat, intelligent but slightly psychopathic character is what came across in his possessions," he said.
Australia's Foreign Affairs Minister, Julie Bishop said the government was "not aware of any Australians who have recently surrendered or have been captured in Iraq or Syria", according to The Age.