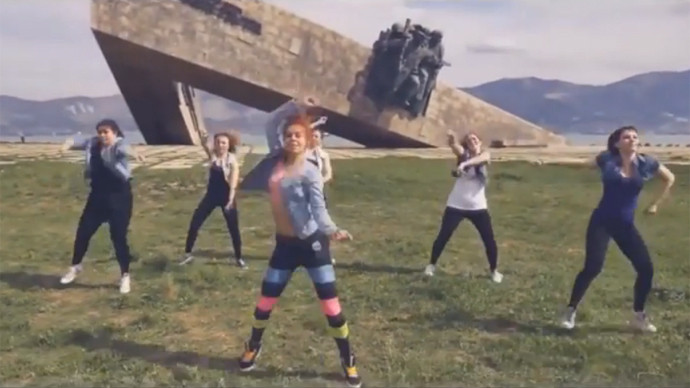 Three women have been jailed for performing twerking in front of a World War II memorial in Novorossiysk, in southern Russia.
Two dancers who performed the routine were sentenced to 10 months in jail each, a third to 15 days and two others received fines on charges of petty hooliganism for health reasons.
A sixth dancer, who was a minor, was not convicted, though her mother was reprimanded for failing to "carry out measures to ensure the proper physical, intellectual, psychological, spiritual and moral development of the child".
Prosecutors described the hip hop style dance as "erotic and sexual" and said, "This incident of disrespect for the memory of war history is unacceptable and any attempts to desecrate sites of military glory will be stopped immediately."
After the video was posted on YouTube, the mayor of Novorossiysk ordered officials to identify the dancers, reports Russian tabloid LifeNews. Charges were subsequently brought against them.
The 1982 memorial commemorates those who died fighting to free the Black Sea city from German occupation in 1943.
During the German occupation, the Soviets retained control of the east part of the city, preventing the German's using the port to supply their troops. It was one of 12 cities in the Soviet Union awarded the honorific Hero City after the war.
Recently, a dance school in Orenburg was closed down, after a video of girls performing a dance featuring twerking in a show for parents went viral, gaining more than 1 million views on YouTube.
The dance, performed by dancers aged between 15-18, was based on Winnie the Pooh.
The word twerk entered the Oxford English dictionary in 2013, which defines the word as meaning to "Dance to popular music in a sexually provocative manner involving thrusting hip movements and a low, squatting stance."