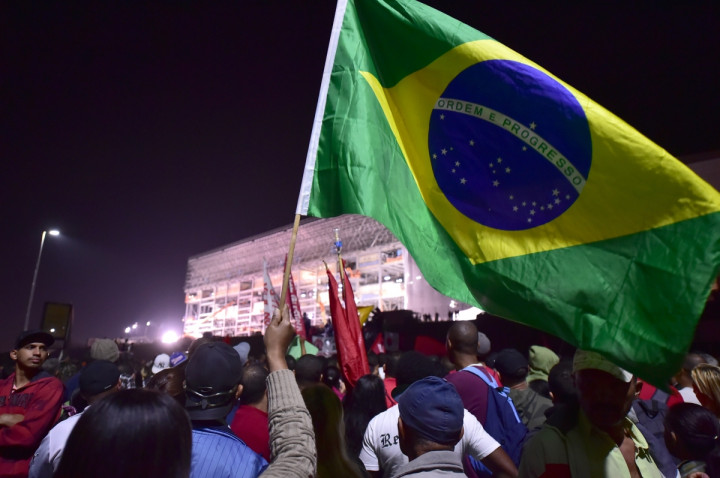 When Brazil was awarded the World Cup in October 2007, the sense of excitement was palpable.
Brazil was booming.
That year its GDP grew by over 6%, as it settled into its place among the Bric economies (Brazil, Russia, India and China) earmarked by Goldman Sachs' Jim O'Neill to become the world's next economic superpowers.
Wild celebrations broke out on the streets of Rio de Janeiro and Sao Paulo as the announcement was made. Brazil's president at the time, Luiz Inacio Lula da Silva, said: "Soccer is more than a sport for us, it's a national passion."
Having lifted the trophy a record number of times and provided more dazzling World Cup memories than any other nation, there was a sense that – despite what English sloganeers might have thought – football was coming home.
Two years later, it was announced that Rio would host the 2016 Olympics. The two biggest sporting events on the planet would be hosted in Brazil in quick succession.
The opportunity for Brazilian society was vast – a country plagued by infrastructural problems, long considered an impediment to growth, would now have the investment it required.
Seven years on, the optimism has faded. During last year's dress rehearsal, the Confederations Cup, hundreds of thousands of protesters took to the streets, aggrieved by rising costs, corruption and lack of investment in public services – despite Brazil's World Cup being the most expensive in history.
"We did this, above all, for Brazilians," said Brazil's President Dilma Roussef in a television interview this week. Her voice, however, is sounding increasingly isolated.
Just 20% of Brazilians believe for sure that the country should be hosting the World Cup, with 60% saying it definitely shouldn't.
"Fans are sad, worried. It's upsetting because I wanted to see my people happy. Everyone wanted it to be a big party, but there simply hasn't been the right spirit to organise one," said legendary Brazilian footballer Zico, lending a high profile voice to the sentiment felt by millions.
What Went Wrong?
"Brazil bid for the World Cup when they were growing rapidly, had just discovered oil, they felt like the world was their oyster and they could do whatever they wanted. They had great hopes. There was much too much optimism and a lack of realism from the outset," Andrew Zimbalist, a US economist specialising in the economics of sport, tells IBTimes UK.
Estimates, as to how much hosting the World Cup is costing Brazil, vary from $11bn (€6.6bn, $8.1bn) to $20bn. And despite the winning bid committee saying that the private sector would pay for stadium construction, the government has footed most of the bill.
The decision to host in 12 cities instead of eight and to knock down nine stadiums and rebuild them from scratch when they could've made minor renovations now seems foolhardy, as construction workers rush to put the finishing touches on the eve on the tournament, amid concerns over fan safety.
And the likelihood is, many of the stadia will become white elephants, used infrequently once the party leaves town.
After the World Cup, the 42,000 capacity Arena da Amazônia in Manaus will be home to Nacional FC, who last season drew a crowd of 297 as they battled their way to a 1-0 victory over Plácido de Castro in the Copa Verde.
Similarly, the new occupants of the Itaipava Arena Pernambuco in Recife will be Clube Náutico Capibaribe, who last season hosted América RN in front of 354 fans.
The stadium cost around $372m to build – money which protestors say should have been invested in public services. In May, the government had to despatch 2,500 soldiers to Recife to maintain order after police went on strike, leading to widespread looting of stores.
"We are not against the World Cup, we are against the government expenses for the World Cup, mainly the money spent in stadium construction," said one of the protestors, referring to the total $3.6bn spent on stadia.
"Part of it is mismanagement we've been told all over the place about corruption and efficiency and incompetence, which is all over the Brazilian bureaucracy.
"It has to do with the entanglements within the bureaucracy itself. The most honest and intelligent individuals couldn't necessarily function well in that environment," Zimbalist says.
A Nation Unready
Given its growing importance to the global economy, however, it's easy to forget that Brazil is still a widely-impoverished nation.
Brazil's total GDP is the world's sixth largest. Forbes says the country produced 19 new millionaires every day between 2009 and 2011.
But inequality is rife.
The World Bank says that 21.4% of the population live below the poverty line, with 4.2% estimated to live below the "extreme poverty line" (less than $1.25 a day).
Many analysts think that Brazil simply wasn't ready to host a major sporting event, let alone two in quick succession. They said the same about South Africa in 2010 and Beijing in 2008. There's a pattern emerging, and organising committees should take note.
Fifa and the International Olympic Committee (IOC) are monopolies. They get all the countries in the world to bid against each other to host events, inevitably drawing bids that are extravagant, outlandish and inappropriate.
"Even though Brazil has been growing, it is still a less-developed country," says Zimbalist. "There's a lot of poverty, low per capita income and a lack of social services. It's a powder keg, Fifa was asking for trouble. In hindsight it's crystal clear."
China and India both faced similar troubles when hosting the Olympic and Commonwealth Games, respectively. Russia "made a mess in Sochi", but authoritarianism in these countries meant they were able to keep civil unrest under control.
Brazil is unlikely to be so lucky. While a transport strike that threatened to wreak havoc on the opening weekend has been averted, protests will continue throughout.
Fifa has been drawn into the limelight for its own mismanagement of the event, coupled with the corruption scandal engulfing its support for Qatar 2022. Could it be that the lasting legacy of Brazil 2014 will be a more scrutinised bidding protest?
Certainly, Fifa and the IOC are going to have a harder time with their existing, largely opaque models.
Countries and cities will realise this is not a particularly good investment to make and hosts will prove more difficult to find.
"Hopefully countries will realise they have to plan more effectively. They'll need to be more realistic in their goals," says Zimbalist.
For Brazil, however, the legacy is unlikely to be so positive.