A moonlit image of refugees crossing the border from Serbia into Hungary has been selected as the World Press photo of the year. Taken at night on 28 August 2015, this man and child were part of the movement of people seeking to cross into Hungary before a secure fence on the border was completed.
Australian freelance photographer Warren Richardson explained how he took the picture: "I camped with the refugees for five days on the border. A group of about 200 people arrived, and they moved under the trees along the fence line. They sent women and children, then fathers and elderly men first. I must have been with this crew for about five hours and we played cat and mouse with the police the whole night. I was exhausted by the time I took the picture. It was around three o'clock in the morning and you can't use a flash while the police are trying to find these people, because I would just give them away. So I had to use the moonlight alone."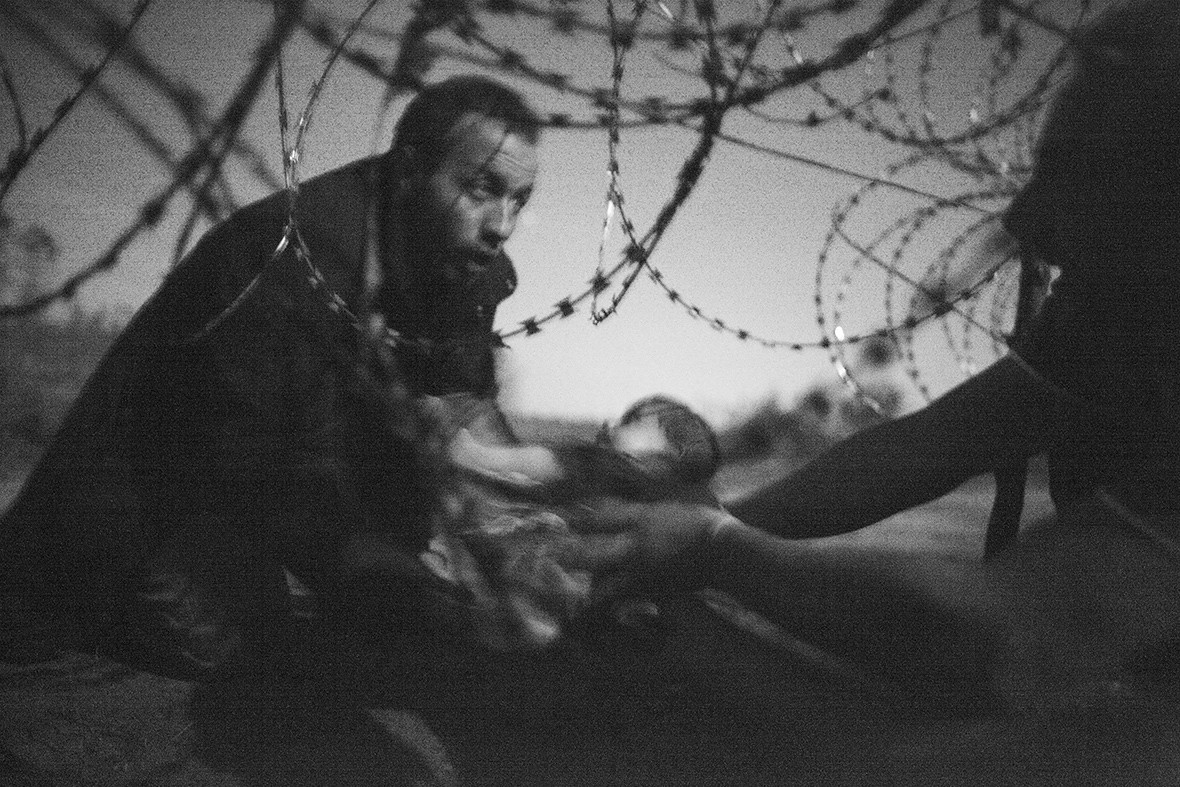 The 2016 contest drew entries from around the world: 5,775 photographers from 128 countries submitted 82,951 images. The jury gave prizes in eight categories to 41 photographers from 21 countries: Australia, Austria, Brazil, Canada, China, France, Germany, Iran, Italy, Japan, Mexico, Portugal, Russia, Slovenia, South Africa, Spain, Sweden, Switzerland, Syria, Turkey, and the US.
IBTimes UK presents a selection of the winners; see a full gallery at www.worldpressphoto.org/collection/photo/2016
General News singles images: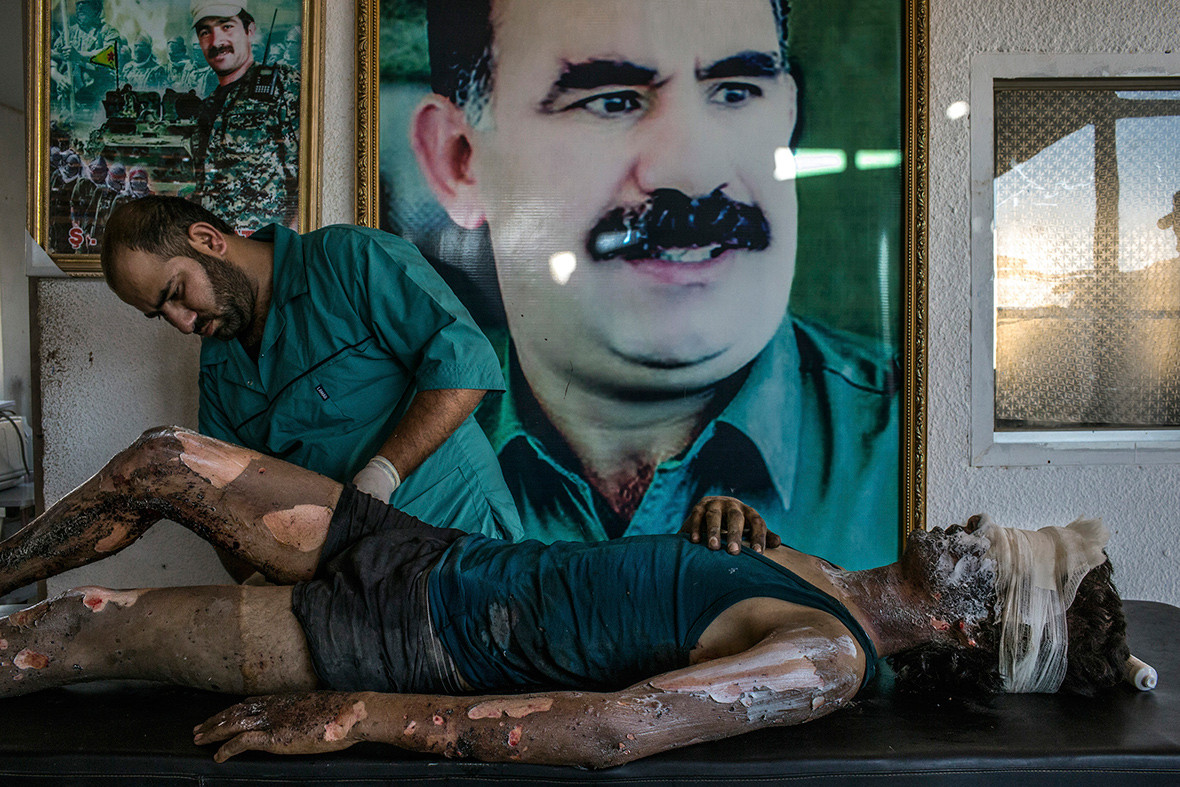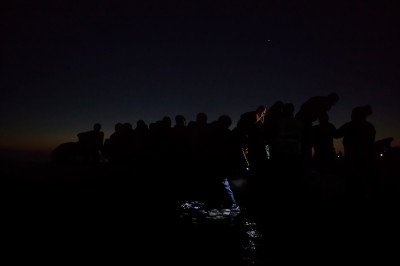 General News, 1st prize stories: Sergey Ponomarev – Reporting Europe's Refugee Crisis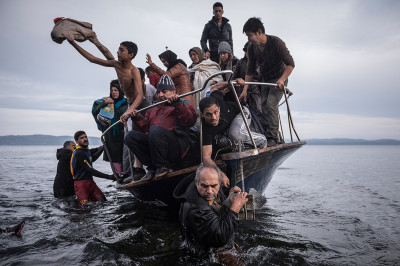 General News, 2nd prize stories: Abd Doumany – Douma's Children. Child victims of air raids by Syrian government forces in the rebel-held city of Douma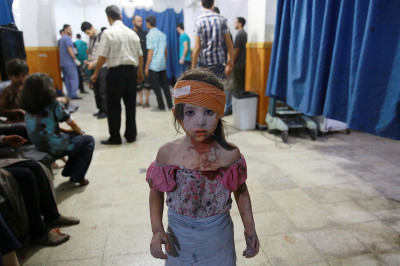 General News, 3rd prize stories: Daniel Berehulak – An Earthquake's Aftermath, Nepal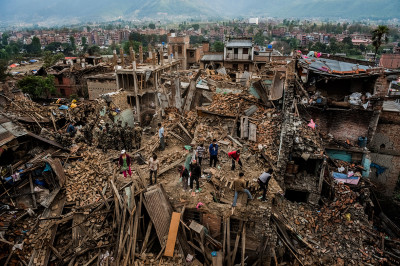 Spot News singles: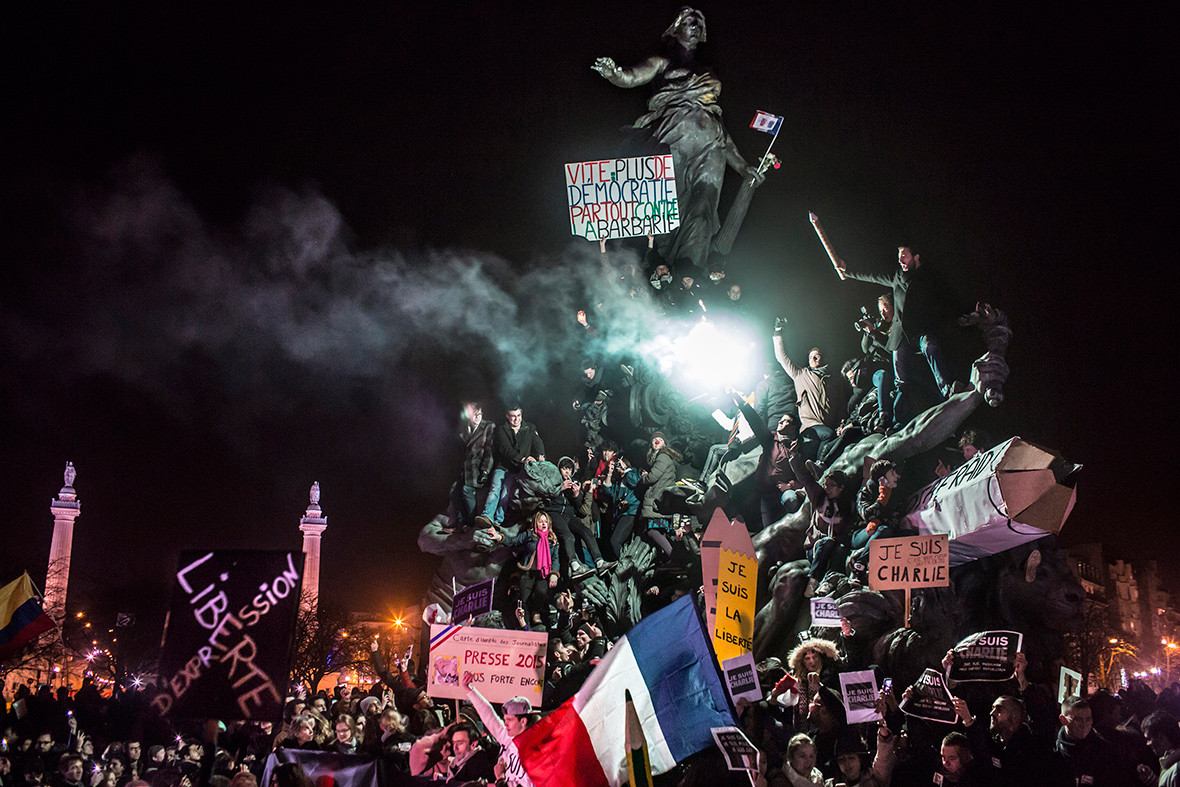 Spot News, 1st prize stories: Sameer Al-Doumy - Aftermath of Airstrikes in Syria
Douma, a rebel-held city in a suburb of the capital Damascus, lies in the opposition bastion area of Eastern Ghouta and has been subject to massive regime aerial bombardment. The area has also been under a crippling government siege for nearly two years as part of a regime attempt to break the rebel's hold in the region. Douma and small rural towns in the Eastern Ghouta area were recorded as suffering from the highest number of fatalities since the start of the uprising against President Bashar al-Assad in March 2011, according to the Syrian Observatory of Human Rights. Government planes regularly bomb Douma and other small towns in Ghouta, which is an agricultural belt around the capital, leaving a constant trail of destruction and loss of lives. At the end of September 2015, Russia launched air strikes in support of Syrian President Bashar al-Assad. The thunderous shelling in and around and the city has forced civilians from the town to join the growing number of more than four million Syrians fleeing the country since the Syrian conflict erupted in 2011.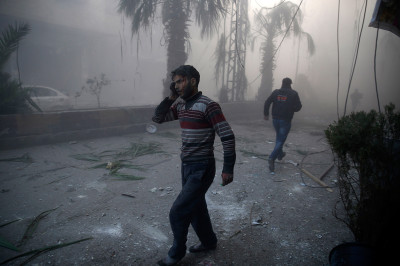 Spot News, 2nd prize stories: Roberto Schmidt – Avalanche, 25-27 April, Everest Base Camp, Nepal
A wall of rock, snow and debris slammed on Everest Base Camp in Nepal on April 25, 2015, killing at least 22 people and injuring many more. The avalanche was triggered by a powerful 7.8-magnitude earthquake that killed more than 8,000 people elsewhere in the country. Rescue helicopters managed to reach the site about 18 hours after the avalanche as bad weather, strong aftershocks and fears of further avalanches rattled survivors. At the time of the disaster, the 5,364-meter-high Base Camp was teeming with hundreds of climbers and supporting teams who used the camp to prepare their ascent to the peak of Mount Everest, the tallest mountain on Earth.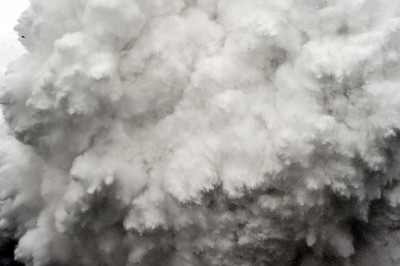 Spot News, 3rd prize stories: Bulent Kilic – Broken Border, 13-15 June, Sanliurfa, Turkey
Syrians fleeing the war rush through broken down border fences to enter Turkish territory illegally, near the Turkish border crossing at Akcakale in Sanliurfa province. Turkey said it was taking measures to limit the flow of Syrian refugees onto its territory after an influx of thousands more over the last days due to fighting between Kurds and jihadists. Under an "open-door" policy, Turkey has taken in 1.8 million Syrian refugees since the conflict in Syria erupted in 2011.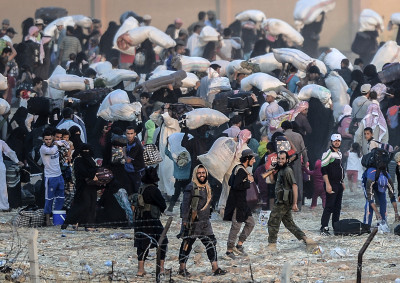 Contemporary Issues, singles: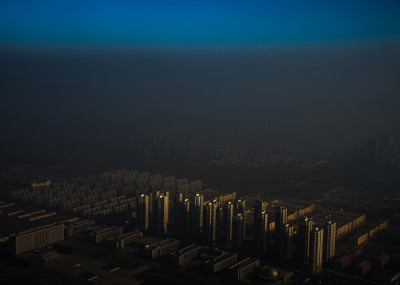 Contemporary Issues, 1st prize stories: Mário Cruz – Talibes, Modern-day Slaves
Series portraying the plight of Talibes, boys who live at Islamic schools known as Daaras in Senegal. Under the pretext of receiving a Quranic education, they are forced to beg in the streets while their religious guardians, or Marabout, collect their daily earnings. They often live in squalor and are abused and beaten.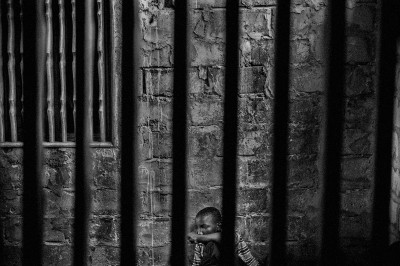 Contemporary Issues, 2nd prize stories: Francesco Zizola – In the Same Boat
Libyan migrants being rescued by the international medical relief organisation Doctors Without Borders in the Mediterranean Sea.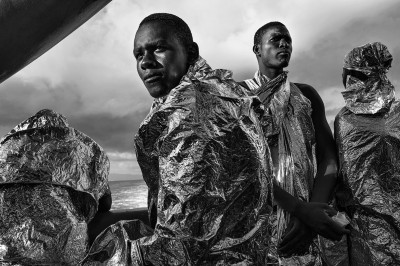 Contemporary Issues, 3rd prize stories: Sara Naomi Lewkowicz – Emily and Kate and Eddie and Reid
Although they hadn't planned it, Emily and Kate got pregnant within weeks of each other through artificial insemination and in vitro fertilisation, respectively. Their sons were born within four days of each other, and the couple embraced the challenge of raising the two babies at once.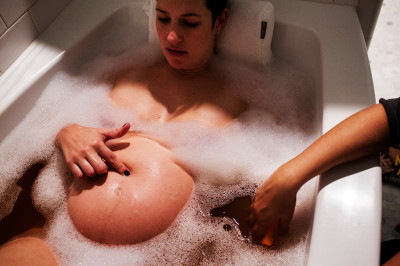 Daily Life, singles: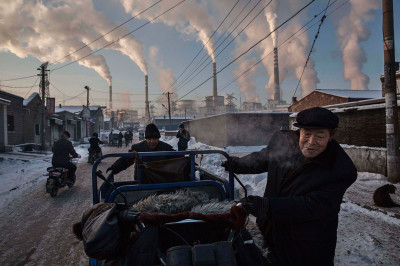 Daily Life, 1st prize stories: Daniel Berehulak – An Antarctic Advantage
Chilean, Chinese and Russian research teams in Antarctica seek to explore commercial opportunities that will arise once the treaties protecting the continent for scientific purposes expire.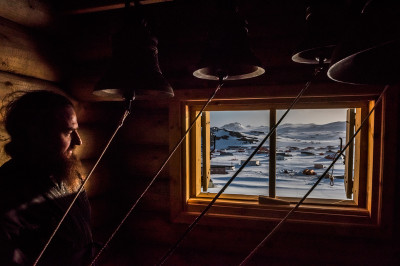 Daily Life, 2nd prize stories: Kevin Frayer – Bliss Dharma Assembly
Tibetan Buddhists take part in the annual Bliss Dharma Assembly. The last of four annual assemblies, the week-long annual gathering takes place in the ninth month of the Tibetan calendar and marks Buddha's descent from the heavens. See more of these stunning photos in this IBTimes UK gallery.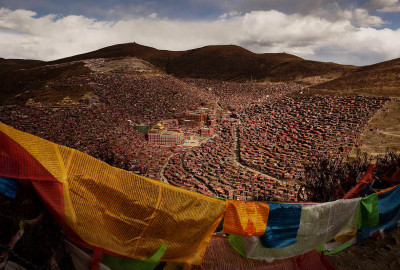 Daily Life, 3rd prize stories: Sebastián Liste – Citizen Journalism in Brazil's favelas
A group of friends from Alemão, a slum in Rio de Janeiro, formed a media collective called Papo Reto, or "straight talk". Social media allows them to report stories from their community otherwise ignored by traditional media.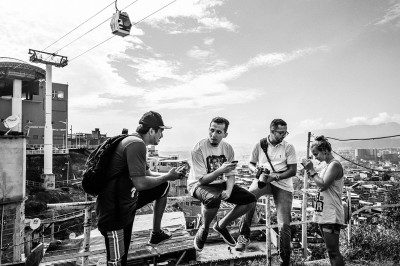 People, singles: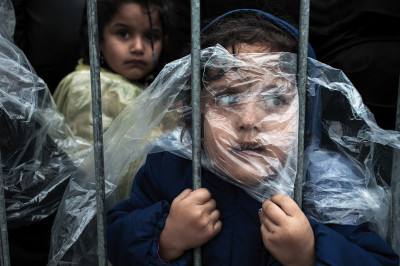 People, 1st prize stories: Kazuma Obara – Exposure
The world's worst nuclear accident happened on 26 April 1986 at the Chernobyl nuclear power plant. Just 5 months after the disaster, a girl was born in Kiev just 100 km south from Chernobyl. The wind included a great amount of radioactive elements, and the girl became one of the victims of the tragedy. This series of pictures represent the last 30 years of the life of that invisible girl. All pictures taken on old Ukrainian colour negative films, which were found in the city of Pripyat, located 5 km from the Chernobyl nuclear power plant.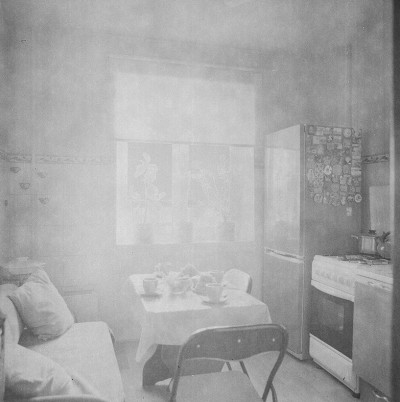 People, 2nd prize stories: Daniel Ochoa de Olza – La Maya Tradition
Young girls between the age of 7 and 11 are chosen every year as 'Maya' for the 'Las Mayas', a festival derived from pagan rites celebrating the arrival of spring, in the town of Colmenar Viejo, Spain. The girls are required to sit still for a couple of hours in a decorated altar.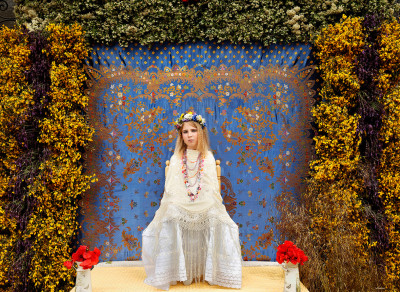 Nature, singles: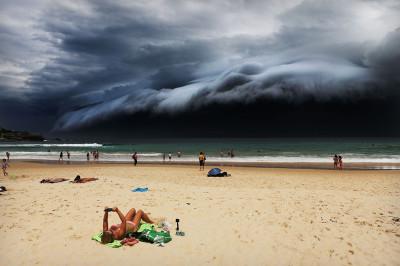 Nature, 1st prize stories: Tim Laman – Tough Times for Orangutans The lives of wild orangutans are brought to light. Threats to these orangutans from fires, the illegal animal trade and loss of habitat due to deforestation have resulted in many orphan orangutans ending up at rehabilitation centres.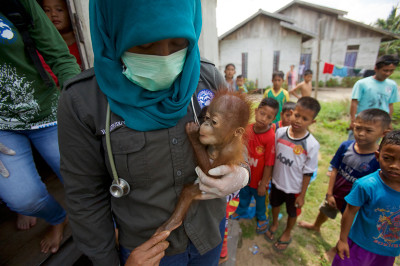 Nature, 2nd prize stories: Brent Stirton – Ivory Wars
Series portraying the armed groups that profit most from the illegal ivory trade and the people at the frontline of the war against them, as well as others affected. In the case of the specific armed groups, the sale of ivory benefits the Lord's Resistance Army, The Seleka Rebels of Central African Republic, the Janjaweed of Sudan and the F.D.L.R rebels who base themselves inside Virunga National Park in the DRC.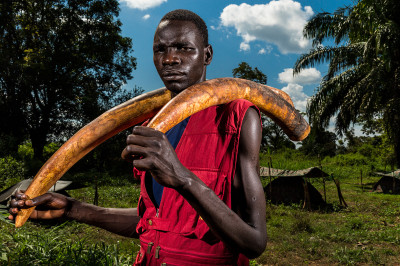 Nature, 3rd prize stories: Christian Ziegler – Chameleon Under Pressure
Madagascar holds more than half of the world's chameleon species; however, as a result of deforestation causing habitat loss, 50% of the chameleon species is endangered.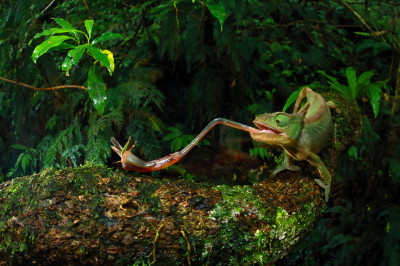 Long-Term Projects, 1st prize: Mary F. Calvert – Sexual Assault in America's Military
Series portraying women who have been raped or sexually assaulted during their service with the US Armed Forces. At the moment, only one out of 10 reported sexual violence cases goes to trial and most military rape survivors are forced out of service. Victims suffer from the effects of Military Sexual Trauma, (MST), which include depression, substance abuse, paranoia and feelings of isolation. Images taken between 2013 and 2015.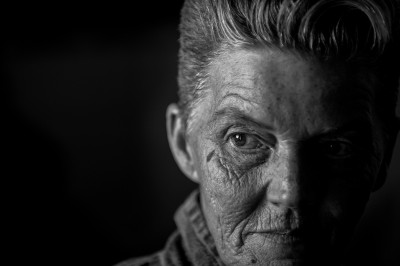 Long-Term Projects, 2nd prize: Nancy Borowick – A Life in Death
A daughter photographs her own parents who were in parallel treatment for stage-four cancer, side by side. The project looks at love, life, and living, in the face of death. It honours their memory by focusing on their strength and love, both individually and together, and shares the story of their final chapters, within a year of each other.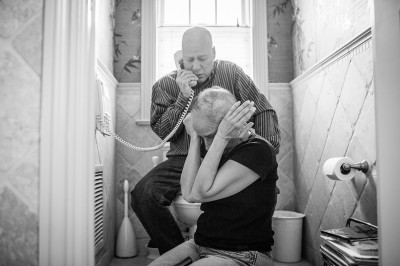 Long-Term Projects, 3rd prize: David Guttenfelder – North Korea, Life in the Cult of Kim
Photographer documents urban and rural North Korea, capturing the daily life of its citizens, military events and ceremonies. North Korea has been one of the most isolated and least understood countries. Few outsiders have ever had a glimpse of the country and there have been very few independent photographs ever made there. The photographer negotiated unprecedented access and took more than 40 trips to North Korea. Images taken in North Korea between 25 February 2008 - 23 May 2015.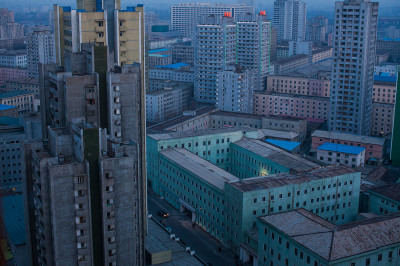 The prize-winning pictures will be presented in an exhibition visiting around 100 cities in about 45 countries over the course of the year, and will be seen by more than 3.5 million people worldwide. The first World Press Photo 16 exhibition opens in De Nieuwe Kerk, Amsterdam, on 16 April 2016. For more information about the exhibition in Amsterdam, please go to: www.worldpressphoto.org/exhibitions/2016-exhibition/amsterdam