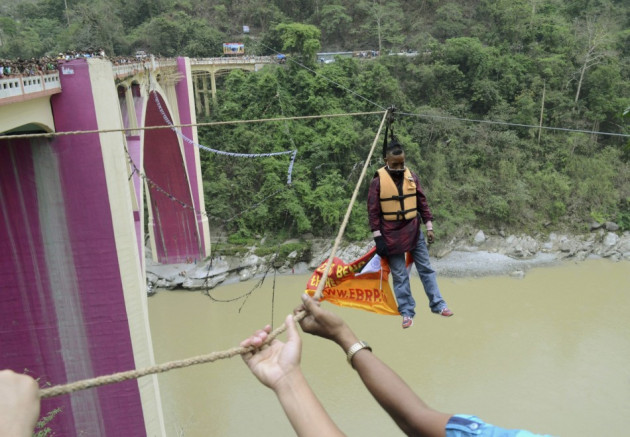 A Guinness World Record holder has died while attempting to zipline across a river suspended only by his hair.
Sailendra Nath Roy, believed to be in his late 40s, was attempting to break his own record by crossing the River Teesta in West Bengal when he suffered a heart attack and died.
In March 2001, Roy broke the world record for furthest distance travelled on a zipwire by hair when he covered a distance of 82 metres (270 ft) at Neemrana Fort Palace in India.
Roy, who worked as a police driver, was trying to beat that distance in his latest stunt. He was suspended from a zipline by his hair at a height of more than 21 metres to cross 183m.
More than 1,000 people gathered to watch the stunt. Eyewitnesses said he had gone about halfway when he appeared to get entangled in the ropes and struggled to move.
Roy is believed to have suffered a heart attack when the pulley got stuck and rescuers were unable to reach to him. He was left hanging for 45 minutes before they managed to bring him down.
Balai Sutradhar, a photographer, told the BBC: "He was desperately trying to move forward. He was trying to scream out instructions. But no one could follow what he was saying. After struggling for 30 minutes he became still."
Roy's younger brother, Benoy, who was a witness to the tragedy, said: "We were proud of his bravery. He was sure to win but destiny has taken his life and the most beloved member of our family as well."
In 2008, Roy also pulled the famous Darjeeling toy train using his ponytail and dragged it more than 10 metres.