Christie's auction house is set to sell the world's biggest flawless diamond for more than £13 million.
The pear-shaped diamond weighs 101.73 carats and is up for sale on 15 May in the Magnificent Jewels Sale in Geneva.
The Gemological Institute of America has graded the diamond as having the best colour - D - and having the best clarity - Flawless.
It came from the Jwaneng mine in Botswana and took 21 months to polish. The Jwaneng mine is one of the richest diamond mines in the world.
Rahul Kadakia, head of jewellery for Christie's Switzerland and the Americas, said: "Just as a great artist is able to 'see' a masterpiece in a block of marble, a perfect diamond is the result of the skill and vision of a master cutter who is able to uncover beauty from a rough gem.
"On 15 May, Christie's Geneva will offer for sale this wonderful pear-shaped diamond of 101.73 carats, which has literally been sculpted like a work of art.
"This diamond is in its scale, quality, and rarity one of the most beautiful 'white' diamonds Christie's has ever had the honour of offering for sale."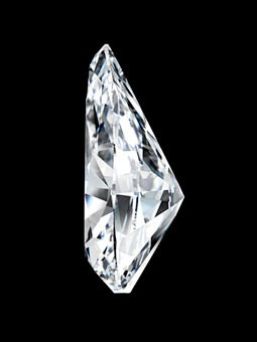 As well as owning one of the world's most perfect diamonds, the successful bidder will also be able to name the stone.
The current record for a colourless diamond was set by the Archduke Joseph Diamond, which weighed 76.02 carats and sold for £14.3m last November.
The most expensive diamond ever sold was a 24.78 carat pink diamond, which was bought at a Sotheby's auction by British billionaire Laurence Graf for £28.8m.