Sheep may outnumber people seven to one, you spend a day in a plane to get there and a week getting over the jet-lag, but New Zealand continues to attract the global mega-rich seeking a bolt hole should things in the northern hemisphere go south.
Billionaire technology adviser to Donald Trump, Peter Thiel, managed to get New Zealand citizenship, despite stating in his application he had no intention of living there, which is a Kiwi passport prerequisite.
He is among a number of billionaires drawn to New Zealand and it is not just for the quality of its rugby (a bit like American football). Transparency International rated it as the world's least corrupt country and the World Bank ranked it as the best country in the world to do business.
The Russian steel oligarch Alexander Abramov, said to be worth more than $4.3bn (£3.42bn), had a property in Auckland's Helena Bay built worth $NZ50m (£29m).
New York hedge fund pioneer Julian Robertson owned three luxury lodges in the country and the Hollywood director James Cameron owns a 3,500 square-foot organic farm near Wellington.
Hong Kong-based financier Michael Nock, who is the founder of Doric Capital Group, bought two hectares in the country because he says: "The thing that was always working against New Zealand, the tyranny of distance, is the very thing that becomes its strength as the world becomes more uncertain," the New Zealand Herald reported.
German-born internet entrepreneur Kim Dotcom, who founded Megaupload.com, tweeted in October 2016: "The world is heading into a major crisis. I saw it coming and that's why we moved to New Zealand. Far away and not on any nuclear target list."
However, opposition immigration minister Iain Lees-Galloway said the government needed to stop foreigners from buying up land out of fear of Armageddon elsewhere, and that passports should not be for sale.
He told the Guardian: "The truth is there is a lot of instability around the world... I can imagine that not just wealthy people but all kinds of people will be looking at New Zealand and thinking, 'I'd like to live there'. We need to be able to respond to that and say we are going to do this on our terms."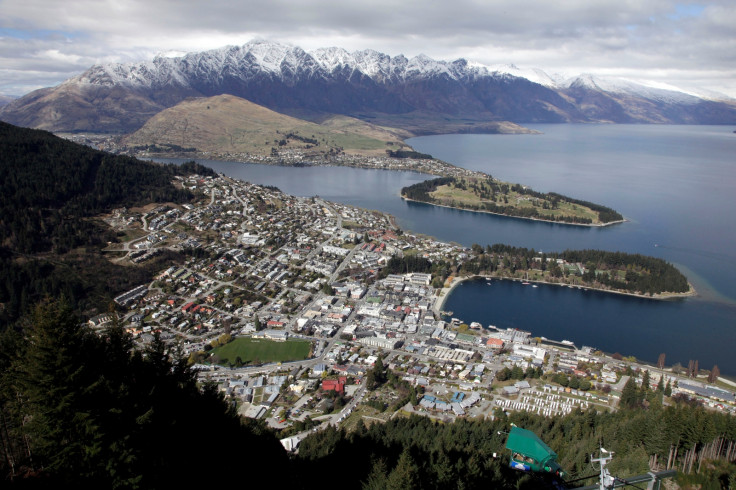 Thiel's case sparked debate when it emerged he was able to buy a tract of land without permission, which would be required as a foreigner. Forbes lists him as being worth $2.7bn (£2.14bn) and he was a co-founder of PayPal and an initial investor in Facebook. He bought a £4.5m 193-hectare property in Wanaka, near Queenstown in the South Island.
He has invested millions of dollars into Kiwi companies, such as the software start-up Xero, $NZ11m, $NZ15m in a partnership with the government-owned New Zealand Venture Investment Fund, and he also gave £600,000 to the Christchurch earthquake relief fund.
Migrants qualify for a so-called Investor Plus visa if they invest $NZ 10m in local assets over three years, as long as they spend 44 days in the country for each of the past two years.
At 270,000 square kilometres, New Zealand is slightly bigger than the United Kingdom but with only 4.4 million people. Political uncertainty following Brexit and the election of Donald Trump has sparked a rise in overseas interest in the country.
After Trump's election, there was a 17-fold increase in Americans registering with immigration authorities. After his comments about climate change and nuclear weapons, the Bulletin of the Atomic Scientists moved the Doomsday Clock 30 seconds closer to midnight.
The American chairman of New Zealand broadcaster, MediaWorks, Jack Matthews, told the New Yorker: "I think, in the back of people's minds, frankly, is that, if the world really goes to sh**, New Zealand is a First World country, completely self-sufficient, if necessary — energy, water, food. Life would deteriorate, but it would not collapse."
Co-founder of LinkedIn, Reid Hoffman told the magazine that many investors in the US referred to New Zealand as code for having a plan should civilisation collapse.
"Saying you're 'buying a house in New Zealand' is kind of a wink, wink, say no more. Once you've done the Masonic handshake, they'll be, like, 'Oh, you know, I have a broker who sells old ICBM silos, and they're nuclear-hardened, and they kind of look like they would be interesting to live in,'" he said.