After a 300-year-wait, Scottish Jews have their own officially registered plaid in distinctive tones of navy and burgundy. The kosher non wool-linen abides by shatnez – the Jewish law prohibiting the mixture of wool and linen in clothing.
Religious experts and tartan authorities came up with the design that included Jewish values and Scottish history. The tartan is registered with the Scottish National Register of Tartan in the name of the Jewish Community of Scotland.
The colours of the tartan include the blue and white of both the Scottish Saltire or St Andrew's Cross and the Israeli flag with its Shield of David. The central gold line represents the gold from the Ark in the Biblical Tabernacle, while the silver is to represent the silver that adorns the Scroll of the Law and the colour red is for the Kiddush wine.
The idea for the Jewish tartan invention began in 2008 when Dr Clive Schmulian, a Glaswegian dentist, talked to Paul Harris, editor of the Jewish Telegraph, at a charity dinner in Glasgow. Schmulian was wearing a Flower of Scotland tartan kilt and was asked about whether there had ever been a Jewish kilt or Jewish tartans.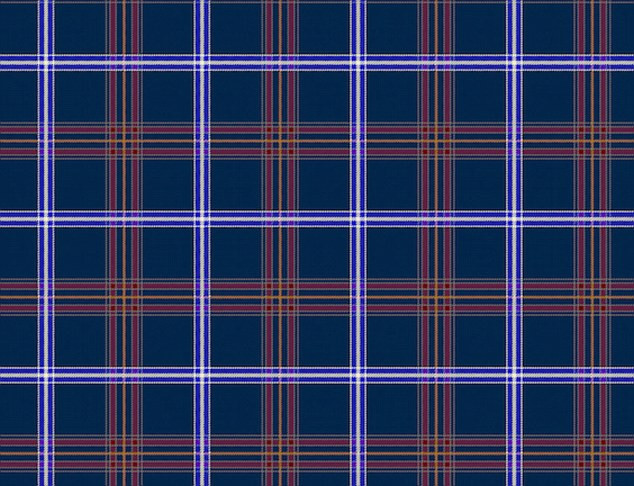 "There aren't any," the dentist told the Jerusalem Post. "So we commissioned Slanj, a leading kilt outlet in Scotland to come up with three designs. We put them to an online poll on the Jewish Telegraph's website, 10,000 people voted, one was chosen and the winning design was announced.
"Our aim is for the tartan to be worn by Scottish Jews, ex-pat Scottish Jews, members of Jewish organisations, individuals of any religion with links to the Jewish and Israeli communities, so we also expect interest from expatriates and Jewish people in Scotland."
Brian Halley, Director of Slanj, said: "I was approached by Clive who wanted to commemorate 60 years of Israel and we talked about the new tartan. Although we design a lot of tartans for organisations, this was slightly different and it's very good to be involved."
Rabbi Mendel Jacobs – the only Scottish-born Rabbi living in Scotland – chose the kosher tartan. He said: "For over 300 years Scots Jews have waited for their own tartan and now here it is. Scotland has a rich tapestry of culture and history and for many years has welcomed other people into its midst.
"The Jewish people have been an integral part of Scottish culture for more than 300 years, with the first Jew recorded in Edinburgh in 1691. In Scotland, the Jews were never persecuted and there were no pogroms, no Holocaust, no national or state sponsored anti-Semitic laws. When England was burning and exiling its Jews in the Middle Ages, Scotland provided a safe haven from English and European anti-Semitism."
The Israeli Ambassador to the UK has been invited to be fitted with a kilt in the kosher tartan.