The world's first rotating skyscraper has been given the go-ahead to be built in Dubai by 2020. The Dynamic Tower has been finally given the green light after years of stalling and will see guests treated to unparalleled views with the ability to turn their apartments and hotel rooms through 360-degrees for the perfect vista.
When complete in time for the Dubai 2020 Expo it will be home to both a hotel and residential dwellings with the twist that each of the 80-storey tower will operate independently, with a voice-activated command rotating the entire floor around a central concrete core. The novel idea, which was proposed back in 2008 by architect David Fisher for Dynamic Architecture, will give residents, for instance, the opportunity to select the views of both the sunrise and sunset from any room they desire.
Renderings of the 1,377ft (420m) structure have been seen in the past but now The Dynamic Tower has once again been given the nod following planning permission. It must now iron out structural dilemmas, such as the logistics of plumbing a building of this kind with the scheduled completion date a fairly optimistic three years. The short construction time frame for the tower is down to the use of Lego-like pre-fabricated modules created in a factory and assembled on-site, allowing completion of an entire floor in a reported six days.
It will be the second tallest building in Dubai (still dwarfed by the Burj Khalifa at 2,722ft) and the luxury residential apartments are estimated to sell for around $30 million each. Dubai 's Burj Al Arab Jumeirah once claimed the bragging rights as the world's only seven-star hotel, however the Dynamic Hotel is said to be so luxurious it "goes beyond stars".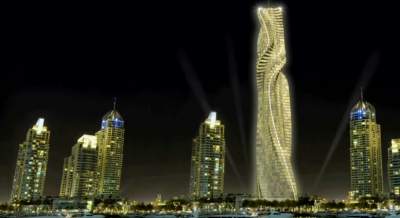 It will tick environmental boxes too with wind power turbines fitted between each floor and solar panels on each roof, which will power the moving floors that can travel at speeds of 20ft per minute – which means a full rotation would take around an hour-and-a-half to complete.
The effect of the rotating skyscraper will be one of the most innovative and interesting looking buildings in the world if all goes to plan with the twisting, writhing exterior giving the structure a lifelike illusion. In a city that also plans to build the world's first Hyperloop for near-supersonic travel in a tube, this shard of architectural madness could not be better placed. But do spare a thought for the window cleaners.