As Robert Mugabe – the world's oldest head of state – turns 93, an anxious Zimbabwe wonders who's next. However, his name is on the ballot again for next year's election, and he has declared that he would like to live until he's 100 and rule for life. Or even longer, if his wife is to be believed. Grace Mugabe, 51, said that even if he dies, the ruling Zanu-PF party should field his corpsein the 2018 election.
Robert Gabriel Mugabe was born on 21 February 1924 in what was then Southern Rhodesia, a British colony. In the 1960s he fought against the white minority government of Ian Smith, and was held as a political prisoner for more than 10 years. When Zimbabwe won its independence in 1980, Mugabe became prime minister. In 1987, he assumed the office of President of Zimbabwe, giving himself additional powers in the process. He holds this position to this day. He has ruled with an iron fist, crushing all opposition. He has compared himself to Hitler and has been accused of having a racist attitude towards white people.
On Robert Mugabe's 93rd birthday, IBTimes UK looks back at his life in pictures.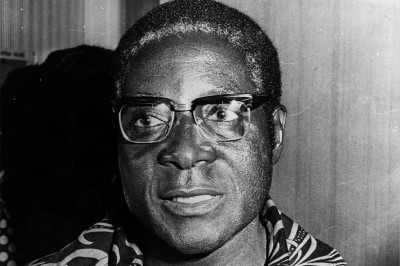 Many Zimbabweans follow his health with keen interest, especially after assertions by Wikileaks that he might have prostate cancer – which he denied. In 2015 he read out the wrong speech in parliament, which the opposition seized upon to question whether he was still of sound mind, though the president's spokesman blamed his aides.
In February 2015, the Zimbabwean government denied that President Robert Mugabe fell down the stairs at Harare International Airport. The incident was caught by press photographers, who were later forced to delete images of a tumbling Mugabe.
In the event of the president's death, resignation or incapacity, the first vice president takes over for the remainder of the term, according to the constitution. The catch is that Zimbabwe has two vice presidents. Both belong to bitterly opposing factions and neither is designated as the official first vice president. This could mean a messy succession, say legal experts.
A key figure in the succession talk is Vice President Emmerson Mnangagwa, who is also justice minister and an associate of Mugabe dating to the guerrilla war against minority rule in what was then Rhodesia.
Then there is "G40," short for Generation 40, a group of younger ruling party members that is associated with Mugabe's 51-year-old wife. Grace Mugabe has said she has no plans to be president. But recent statements by the party's youth leader, who is closely associated to her, that Mugabe should only be replaced by a Mugabe have fuelled speculation that she could be positioning herself to take power.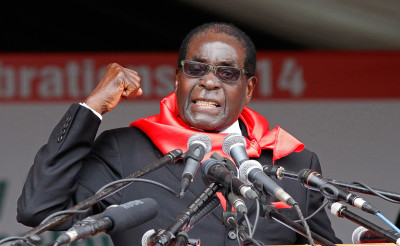 In 2016, a photo allegedly showing a woman picking up cake crumbs that fell from a table during Zimbabwe's President Robert Mugabe's lavish 92nd birthday party caused a stir in the Southern African nation, where nearly a quarter of the population face the risk of starving to death. Mugabe's Zanu-PF spent up to US$1m (£805,000) of taxpayers' money on the celebration, which included a huge cake weighing about 203 pounds (92kg). The festivities were held in the drought-stricken Masvingo province, which also proved particularly controversial.
The country's once-prosperous economy is imploding, bringing more pressure from the opposition and frustration from a restless population. The government has failed to pay salaries on time, public hospital doctors are on strike and cash shortages are driving the economy to the edge. Nationwide protests broke out last year, rallied via social media. Amid these troubles, it is the political uncertainty that has caused the most concern.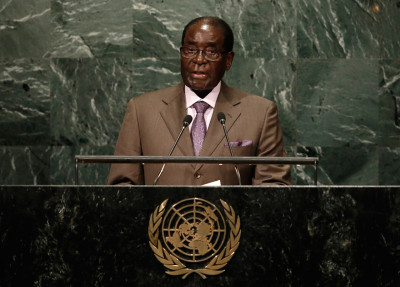 Employees in Mugabe's office held a small birthday party for him. A bigger celebration is set for Saturday (25 February) in Matopos, 500km (350 miles) south-west of Harare. The state-owned Herald newspaper carried a 24-page birthday supplement, packed with goodwill messages from government departments.