Hundreds of thousands of Zimbabweans are expected to attend President Robert Mugabe's lavish 93rd birthday party, which is taking place on Tuesday (21 February).
Zimbabwe's ruling Zanu-PF party confirmed Mugabe as its candidate for the 2018 elections, in spite of his age. Mugabe, who turns 93 today, meanwhile, said he will continue "until God says 'come'", adding he has no intention of stepping down – despite being Africa's oldest leader and the only president Zimbabwe has known since it became independent in 1980.
Where is the party being held?
The birthday bash is being held on a rugby pitch near the Matopos National Park, about half an hour's drive from Bulawayo.
How many people are attending?
State media has reported some 100,000 people are expected to attend, while youth leader Kudzai Chipanga on 14 February said there could be as many as 200,000 attendees.
How much is the party costing?
Mugabe's Zanu-PF, which has been the ruling party since 1980, was looking to raise between $250,000 (£201,400) and $2.5m for the celebration, which will include a huge cake, weighing about 205 pounds (93kg). 150 cattle were expected to be slaughtered.
It remains unknown just how much the ruling party managed to raise. News24 newspaper quoted a party official last month saying each of Zimbabwe's 10 provinces should raise $25,000. This is the cost of Mugabe's 2009 birthday party. However, NewZimbabwe.com quoted an unnamed source who said the real goal may be closer to $2.5m.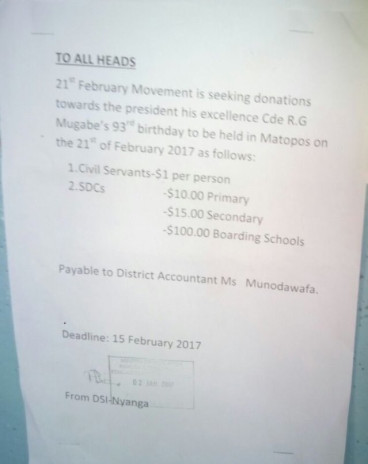 Activist Doug Coltart, a Zimbabwean lawyer and the son of founding member of the Movement for Democratic Change (MDC), confirmed fundraisers have requested donations from civil servants, businesses and officials.
In a letter seen by IBTimes UK, the Nyanga District Administrator outlines expected "donations" from civil servants and heads of school development committee (SDC) towards the party. Civil servants in the district were asked to pay $1 per person, primary SDCs $10, secondary SDCs $15 while boarding schools were requested to fork out $100 each.
Zimbabwe Human Rights Association (ZimRights) NGO, meanwhile, on Tuesday alleged that villagers in the rural area of Muzarabani in Mashonaland Central were asked to make a choice between contributing to the birthday bash and not receiving government-sourced food aid.
Chibaya villagers in Muzarabani told ZimRights on 18 February that "it was now compulsory to contribute towards the festivities", and that they were forced to pay $1 each towards the preparations. Villagers were reportedly told that failure to contribute would result in them being not given food aid.
"Zanu -F chairman for our area Gift Masauso came to my house in the afternoon demanding for a dollar for the president's birthday,'' villager Stanley Mukovera told ZimRights.
Given the current economic situation in Zimbabwe, several elderly villagers said they could not afford to spend $1. Midred Goto, 80, who lives with six grandchildren, told Zimrights Goto is was "worried after food aid came the week before and skipped her".
Zimbabwe is facing its worst financial crisis in almost a decade with a shrinking economy combined with an estimated 80% unemployment rate and the worst drought in 35 years.