'Love is in the Airbus': Virgin Atlantic plane draws giant heart over Cornwall coast
People were initially unimpressed by the "waste of fuel" involved in the stunt.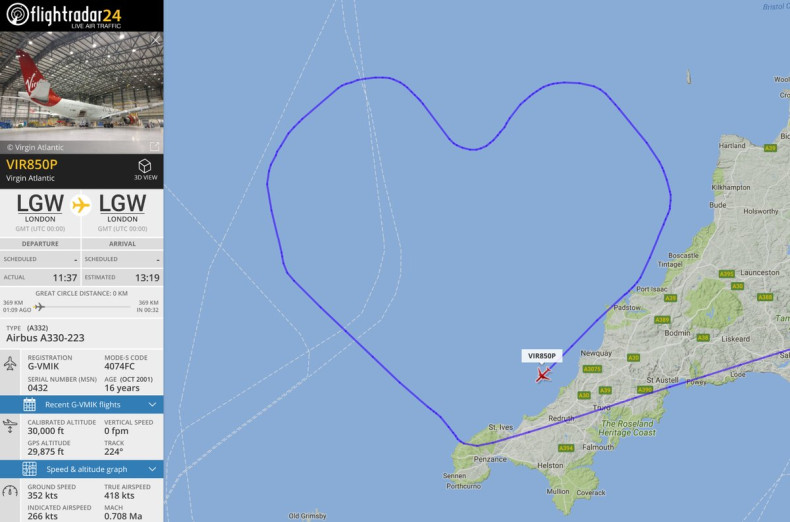 Love was in the air as Virgin Atlantic marked Valentine's Day with an attention grabbing stunt, with a London Gatwick plane flying down to the Cornwall coast to draw a massive heart with its route.
The effort was noticed and shared by Flightradar24, which tracks air traffic in real time in the UK and around the world.
The Airbus A330-223, with registration G-VMIK, departed from Gatwick at 11.37am and was in the air for two hours before landing back at the South London airport.
Seemingly a pointless route, many people shared concerns that the flight was a waste of fuel. "Great for climate change", "Talk about some useless spillage of fuel. Meanwhile the planet gets warmer", and "An exceptional use of aviation fuel. Sent with love to the low lying islands of the world" were just some of the concerned - and often sarcastic - comments.
However, a spokesperson for Virgin Atlantic on Twitter later repeatedly confirmed to naysayers that the flight was planned for training, and simply adapted for Valentine's Day as a bit of fun. They said: "This was a required training flight that happened to take place on Valentines Day, so we altered the flight path slightly to make a heart shape."
Virgin Atlantic took delivery of the first of four ex-Air Berlin A330 jets last month, and this was an essential training flight for the new aircraft.
Virgin Atlantic also shared an amazing video showing the flight's route from NATS, the air traffic management company, and repeatedly used a punny hashtag: #LoveIsInTheAirbus.