Would You #LoveRyanair for €20,000? Airline Faces Twitter Mockery Over Wedding Competition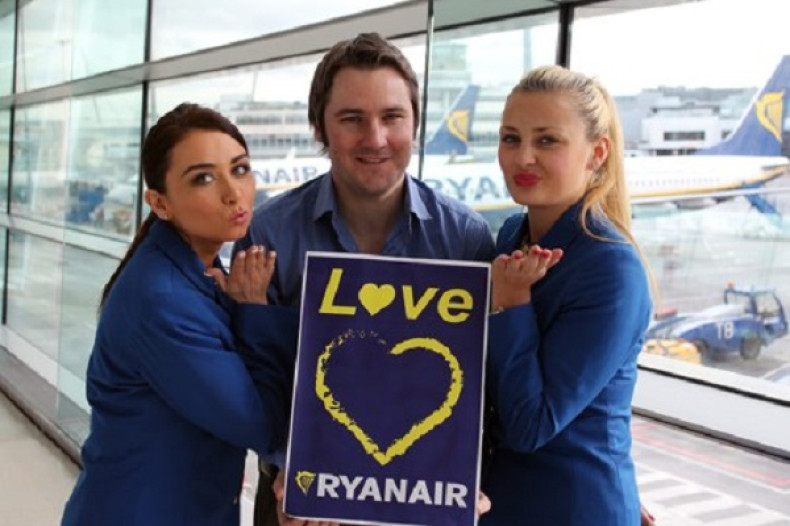 Do you #LoveRyanair? This is the phrase the budget airline wants you to tweet as part of its latest publicity stunt – to win a wedding worth €20,000 (£16,500).
Ryanair loves a good PR stunt. From charging people to use the toilets, to offering standing seats for a lower cost. Last year the airline went all out in the class stakes with a charity calendar parading half-naked Ryanair air hostesses around London.
Now the company is offering people the chance to win a wedding just in time for Valentine's Day. Couples who found love with Ryanair are being asked to tell their story in less than 200 words.
As well as the money, Ryanair says they will also get the chance to make a "surprise proposal" on board one of its flights.
Robin Kiely, from Ryanair, challenged customers to "tell us your Ryanair love story in less than 200 words and one lucky couple will win a €20,000 wedding – and we'll also help you arrange a surprise proposal to your partner at 30,000 feet – onboard a Ryanair aircraft."
While few people could imagine a more romantic proposal, the responses to the competition have so far been, for want of a better word, interesting.
From actual questions:
@Ryanair how is a fella supposed to explain the ring going beep at security?

— därren böyle (@misterscoop) January 14, 2014
@Ryanair Does this mean you'll waive your €200 excess ring surcharge? #LoveRyanair — Above Averaje (@AboveAveraje) January 15, 2014
To stories of love
@Ryanair I held my wife's hand once when we hit turbulence.

— Bruce Everiss (@Bruciebabe) January 14, 2014
@Ryanair My wife bought me a hot chocolate last time we flew Ryanair. — Bruce Everiss (@Bruciebabe) January 16, 2014
@Ryanair Once I had sex in your airplane bathroom. What I win, now?

— Matteo Bianx (@MatteoBianx) January 14, 2014
@Ryanair I bought my bf of 5 years a panini on our first trip abroad, doncaster>barcelona w/ ryanair in July. how romantic — Amy Frank (@amyfrankuk) January 16, 2014
To the bitter tales of woe
I whisked my girlfriend into Venice by expensive limosine as the @Ryanair bus was full and we were stranded in some place called Treviso.

— Sam Collins (@1SamC) January 16, 2014
@Ryanair I'd #LoveRyanair to go bust. Fatuous company with no comprehension as to the meaning of the words "customer service". — Gerald D (@gerald_d) January 14, 2014
To the confused
@Ryanair you mean like loving your B737-800s? or loving your CCs? :-)

— Jan Pavelka (@pavelkja) January 14, 2014
@Ryanair i love aer lingus #forthecrack — padraic mulry (@padraicmulry) January 14, 2014
Entry to the competition closes 22 January.