After her explosive appearance at WrestleMania 31, UFC fighter Ronda Rousey is looking for a way to return to WWE.
Rousey told retired wrestling legend Roddy Piper's Piper Pit podcast that "there's nothing like it [WWE]." She admitted that she had been given the most high-profile of introductions to the WWE crowd.
"I hit the ground running... the first I ever wrestled was at Wrestlemania with an attendance record at Levi's Stadium," she told Piper. "I had a problem when I left though. There's no way I can't not go back in there again. There's no way. After experiencing that, there's nothing like it. Yeah."
"The second I left I was already thinking, 'How can I possibly go back?' I didn't even change yet. I hadn't even gotten out of my outfit yet," she added.
According to PWInsider.com, WWE now feels like Rousey is "part of the family" since she appeared at WrestleMania 31, and officials fully expect her to return to the company at some point.
As for UFC President Dana White "signing off" on Rousey's appearance at WrestleMania 31, Dwayne 'The Rock' Johnson reportedly played a major role in helping Rousey participate in the WWE segment with Triple H, Rock and Stephanie McMahon.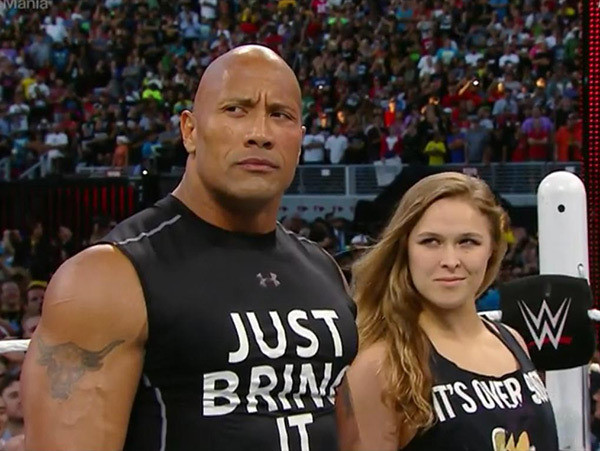 "There remains a backstage feeling in WWE, however, that Dana White will not actually allow Ronda Rousey to wrestle a match in WWE, so it will be interesting to see what, if any, help The Rock might offer in negotiating that deal," states a WrestleZone report.
The website report also adds, "...people believe Rousey will make another appearance for WWE the next time the company runs the Staples Center in Los Angeles, which will be for the Hell in a Cell PPV in October."