It looks like the Bella sisters have more than one reason to celebrate. First Nikki got engaged to her long-time boyfriend and professional WWE wrestler John Cena – with one outstanding proposal in the middle of the ring – and now it is her sister Brie's turn to keep the string of celebrations on.
The 39-year-old retired wrestler is expecting a baby girl, Birdy Joe Danielson, with husband Daniel Bryan and in her sister's words; she looks like she's due any minute. Until the wrestler couple welcomes their baby daughter, sister Nikki is happily dishing pregnancy update.
"She looks like she's due any minute, but yeah she's due in about four weeks," newly-engaged Nikki told E! News, adding that her sister is feeling slightly uncomfortable in the final days of her pregnancy.
"Pregnancy has been great for her, she's in the stage where she is getting a bit uncomfortable and can't wait to have the baby," she said about her sister. "But she looks so beautiful pregnant, she has this amazing glow."
While there's still a month's time before Brie gives birth to Birdy Joe, the to-be aunt is already busy planning exciting and luxurious treats for her niece. "Personally, I'm hoping she looks like Brie so she could be my mini-me," Nikki dished about her niece.
So much so, that the recently engaged wrestling star has even chalked out elaborate plans to spend time with her "mini-me".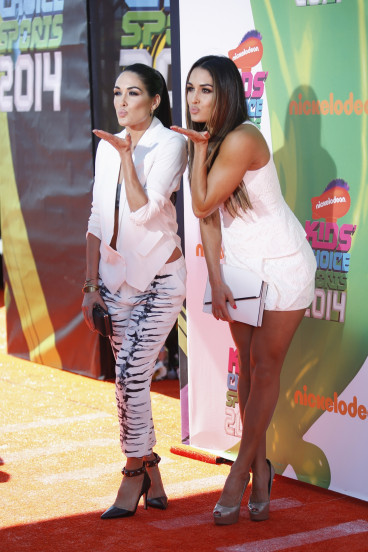 "When Brie and Bryan go on their hikes through wherever for two weeks, I can take Birdie and deck her out in Chanel, Louie Vuitton and we won't tell Bryan," Nikki said revealing her exciting plans. "I can't wait to have those fun days with her."
Meanwhile, the two-time Divas champion has a lot to look forward to in her personal life as well. She was pleasantly surprised by her long-time partner Cena, when he proposed to her after a successful match during WrestleMania 33.
"I have been waiting so long to ask you this," the 39-year-old WWE champ said as he went down on one knee. "Stephanie Nicole Garcia-Colace, will you marry me?"
Moved by the super-romantic proposal, WWE fans as well as Nikki's sister Brie flocked to social media to congratulate the newly-engaged couple.
"I can't believe it... we have been waiting for this moment and I am so excited," Brie said adding, "I love you Nicole and am so happy for you.