Nikki Bella and John Cena met each other while working at WWE. After having started off initially as friends, in November 2012, the duo got romantically involved.
And after dating for four years, the Cenation Leader proposed to the former WWE Divas champion that too at the Grandest Stage Of Them All – WrestleMania 33, which took place at the Camping World Stadium in Orlando, Florida on 2 April.
While fans of the couple were well aware that the two were dating, the entertainment company did want them to reveal their romance within the ring.
Bella, in an interview with FoxSports, said that the federation did not allow the 16-time WWE champion and herself to disclose their relationship to the WWE universe.
"They wouldn't allow it for so many years. We were told, 'Not on WWE'. They could see it on 'Total Divas,' 'Total Bellas,' but not on WWE," she said.
Bella said the reason why the company did not want to see them together was because when Cena was in an on-screen relationship, "it did not do so well as to when he was just himself".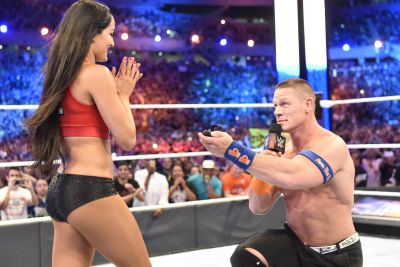 "So the fan base didn't take him in like how that was. So after the last on-screen, they were like, no girls with this guy," she noted.
She also said the company will never pair the likes of Roman Reigns with a girl because the macho feeling of the star could be taking away.
"And I think with a lot of those guys — like, I don't think you'll ever see a girl with Roman (Reigns). There's just certain people that it's just, not that it takes away the 'Superman' feel of them, but a little bit," she added.