There are so many of them I thought anyone could have a go. Really hope the boys keep me on #LeeNelsonForStereoKicks https://t.co/cM9JeLzprk

— Lee Nelson (@RealLeeNelson) November 8, 2014
X Factor contestants Stereo Kicks experienced their first stage invasion on Saturday night's show.
The eight piece band briefly became a nine-piece after an invader jumped on stage and sang along with them as they performed the Michael Jackson hit, You Are Not Alone.
The invader was revealed as comedian Lee Nelson, who mimed along to the song before being escorted off by security.
Writing on Twitter he confirmed that he was the invader saying: "There are so many of them I thought anyone could have a go. Really hope the boys keep me on #LeeNelsonForStereoKicks"
Wearing a red bomber jacket, Nelson looked like a good fit in the boy band, prompting Simon Cowell to joke that Louis Walsh had added yet another member to the eight piece group.
"There's so many of you on the stage, did you even notice someone else had joined you?" he joked.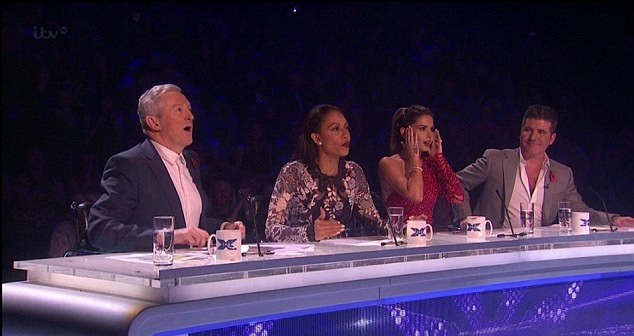 The four judges, who were evidently shocked by the incident, praised the band for their professionalism.
"Good for you!" said Cowell. "The important thing is that you bounced back from where you were last week."
Fellow judge Cheryl Fernandez-Versini added: "I don't how I would have dealt with what you just dealt with. It was a real sign of professionalism."
Mel B revealed that Cheryl originally thought the invader was Take That's Mark Owen.
An official spokesperson for The X Factor said: "During Stereo Kicks' performance this evening, there was a brief disturbance on stage, which was immediately dealt with by security. The performance continued as planned."
It's not the first time Nelson has pulled a public prank. The comedian gate crashed the England football squad as they departed for the world cup.
The comic was pictured attempting to mingle with England's players and staff as they waited for their luggage to be removed from the coach which had delivered them to a private terminal at the airport.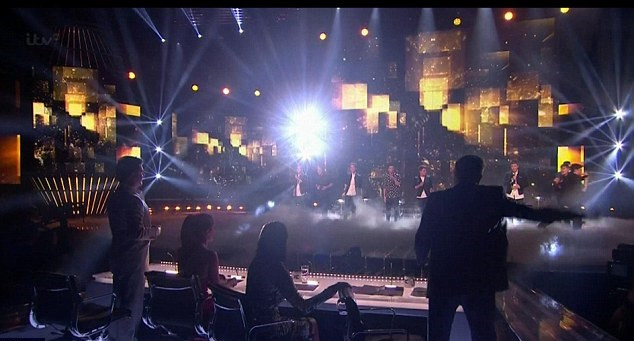 Meanwhile, the contestants took on the songs of the kings of pop Michael Jackson and Freddie Mercury, with varying results.
Paul Akister's rendition of Queen's 'Don't Stop Me Now' saw Cheryl lavish praise on the act and his mentor. "You're so consistently good, you haven't had a bad week vocally. Just trust Melanie when she says perform more because she cares more than any other mentor that I've worked with."
Stevi Ritchie received a mixed reaction to his bizarre performance of 'Bohemian Rhapsody.'
"What just happened?" said Louis Walsh. "You became a rock god, that was crazy. I think Freddie would have loved it if he was alive. You're turning into the David Brent of The X Factor in a good way."
Andrea Faustini wowed the judges with his performance of the Queen classic 'Somebody To Love.'
"That is my favourite performance of the night and the whole series," said Walsh.
Cheryl added: "There's never anything less than 100% with your performances. The whole of Britain loves you."
Faustini, who was treated to a trip back home to visit his family in Italy, said he was grateful to the British public for embracing him as they have.
"I may be away from my family, but this is my home now," he said.
The X Factor results show airs on Sunday (November 9) at 8pm on ITV .