The new version of Do They Know It's Christmas? was broadcast on The X Factor in a world exclusive.
Featuring some of the biggest stars in British music today, including One Direction, Emeli Sande, Rita Ora, Chris Martin and Bono the Band Aid 30 charity single will raise money for the victims of Ebola.
Making an appearance on the reality TV show, Sir Bob Geldof, who along with Midge Ure wrote and the original track in 1984 and the new version, made an impassioned plea to the public to buy the record and support the cause.
"Thanks Simon for allowing us to do this, because this is hardcore, allowing the X Factor nation to watch this. It's a little bit of pop history," said Geldof.
Referring to the Ebola virus he explained: "This thing could arrive here on a plane any time. Instead of watching African mothers unable to touch their dying children it could be a British mother. We will support those immensely brave NHS workers, those young doctors and nurses, those young soldiers, who are going out to help. The government are leading the world with this.
"This isn't about me. It's not about them. For the first it's about us. It could be a British mum, a British child."
Alluding to a graphic opening sequence to the video that portrays the death of an African woman in squalid conditions, he added: "We wanted to show you the context in which this was done. It's harrowing. It's not for an entertainment show, but this is why we do this."
The words from the original song: "Where the only water flowing is the bitter sting of tears" have been replaced with "Where a kiss of love can kill you and there's death in every tear".
"Well tonight thank God it's them instead of you" originally sung by Bono, have also been replaced with the U2 front man now singing: "Well tonight we're reaching out and touching you."
Band Aid 30 was recorded in the same venue as the original single, which raised more than £8m for the victims of famine in Ethiopia, and featured some of the biggest stars of the day, including Duran Duran, Status Quo and Sting.
The single spawned the Live Aid concerts, which raised more than £150m for charity.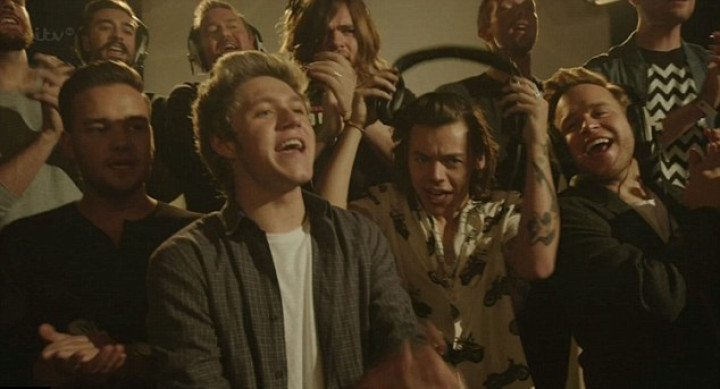 Arriving at the Sarm studios in west London yesterday, One Direction's Niall Horan told the BBC: "Hopefully it gets to number one and raises a lot of money for a really worthy cause."
The Chancellor of the Exchequer George Osbourne has also announced that VAT on purchases of the single will be waived, to allow 100% of proceeds to go to charity.
Band Aid 30 will be available to download at 8pm GMT on Monday, priced at 99p. A CD version costing £4 will be available three weeks later, with a cover designed by Tracy Emin. It will be available on streaming music sites from January.
This is the fourth time the song has been re-recorded, with other versions having been released in 1989 and 2004.