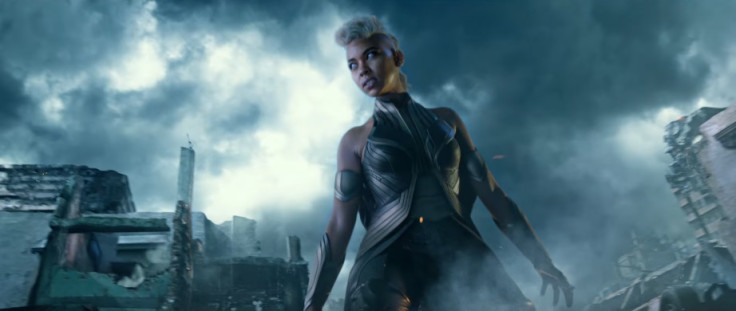 As X-Men: Apocalypse nears its Memorial Day release, despite the not-so-stellar reviews, the movie seems to have garnered quite a bit of an attention for itself. Featuring the regulars from the previous X-Men instalments — Jennifer Lawrence, Michael Fassbender and James McAvoy — Apocalypse has some newer additions as well like the character of Storm, which is set for a fresh treatment.
Alexandra Shipp has taken on the reigns of Storm in the new X-Men movie and the actress already seems to be planning for a movie with her character and Marvel's Black Panther.
Speaking to Diana Madison in an interview, the actress revealed her strong interests in a Storm-Black Panther spin-off. "I want that movie so bad, I've got a pitch. I'm like coming up with a vision board, I want this movie to happen," Shipp told Madison.
"Honestly it doesn't have to be me — if Chadwick [Boseman] was like 'you know what I really want to do this with Hallie' I'd be like yo, that's fine at least make the movie," the 24-year-old actress added.
However, her ambitious idea clearly seems to have precedents in the Comics. Ororo Munroe aka Storm was married to the character of T'Challa, better known as Black Panther in the comics back in 2006. However, they got divorced in Avengers V X-Men miniseries, which started in 2012. During the period that they were together, these two feisty characters from the Marvel Comics Universe not only fought side by side but also made a formidable team. Undoubtedly, any storyline exploring the dynamics of these two characters is bound to get the fans excited.
The stumbling block in the path to a Storm- Black Panther movie seems to be the individual studios that have not expressed any desire to collaborate the two characters in a single plot. While 20th Century Fox over a period of time has established Storm as one of their most integral mutants, Marvel Studios, on the other hand, has already introduced Black Panther in Captain America: Civil War. Following the introduction in Marvel's successful venture, Black Panther is now set to feature in a standalone movie by Marvel.
Sony and Marvel have already demonstrated a successful cross-over of Spider-Man in the Civil War movie, hopefully Marvel and Fox will follow suits for a Storm and Black Panther spin-off.