20th Century Fox has unveiled a new poster for X-Men: Apocalypse, and it plays up the whole "world-ending" aspect referred to in the title. Picking up in the year 1983, in a world completely changed by Mystique's live-on-television actions at the end of Days Of Future Past, mutants have been known to the world at large for a decade, but the resurrection of the powerful Apocalypse brings about the threat of global destruction, as he sets out to put humans in their lowly place with the help of his Four Horsemen, (who each can be seen on the new promotional material).
The film is set to follow a storyline straight from the comic books, in which villain Apocalypse (Oscar Isaac), the first ever mutant who has grown more and more powerful since his birth in Ancient Egypt, awakens from thousands of years of suspended animation. Apocalypse soon becomes disgusted by the world that he discovers upon his awakening and puts together a band of powerful mutants to try and eradicate the human race and the gifted ones that stand with them. Much like every other X-Men film that has come before it but hey, why change tradition now?
It seems like the poster is all about keeping up tradition too, putting Michael Fassbender's Magneto centre-stage while titular villain Apocalypse almost fades into the jet-black background. Of the seven X-Men based movies that have come before this latest instalment, Erik 'Magneto' Lensherr has acted as either the main antagonist or either an ally of enemies on the big screen, so fans were looking forward to seeing a new big bad at the forefront of the action. But if this new image is anything to go by, Apocalypse might act as more of a Thanos-type overseer operating his powerful puppets, rather than a soldier on the ground when it comes to some wrong-doing. A decision that will likely disappoint followers of the franchise a little tired of the same formulaic, if it in fact is indicative of what will happen in the film.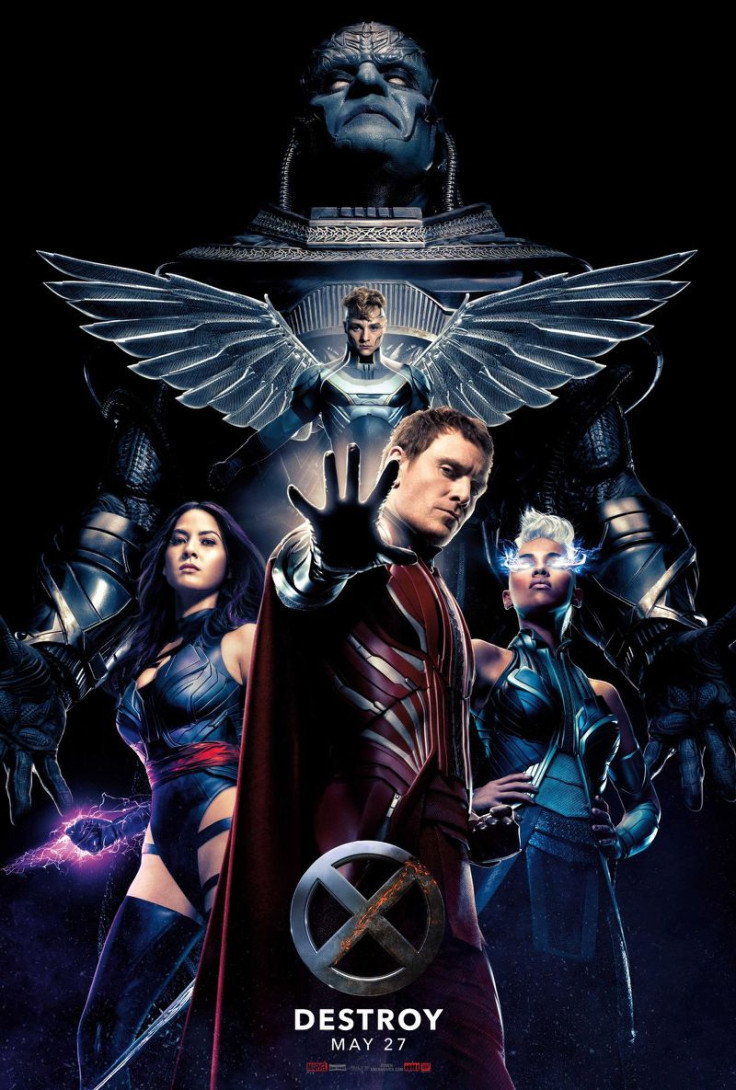 Newcomers to the X-Men movies, Olivia Munn and Alexandra Shipp also feature in the poster, channelling their respective characters; Psylocke and Storm. On top of the new actors that have joined as the Horsemen, as ever in the X-Men franchise, the cast list just keeps on growing. As well as returning faces McAvoy, Lawrence, Fassbender, Nicholas Hoult and Rose Byrne, fans will see a whole host of newcomers. The fresh faces include Game Of Thrones' Sophie Turner who plays a young Jean Grey (a part originally brought to screen by Famke Jenssen), Kodi Smit-McPhee as Nightcrawler and Tye Sheridan as a young Scott Summers, who most people will best know as Cyclops.
Bryan Singer returns to direct the project, along with writing the screenplay alongside Michael Dougherty, Dan Harris, and Simon Kinberg. Said to be the conclusion of a trilogy that began with prequel X-Men: First Class and was followed with X-Men: Days of Future Past, X-Men: Apocalypse is set for UK release on 19 May 2016 and the US a few days later on 27 May.
For more entertainment news follow A-List on Twitter @Alistinsider