Real Madrid midfielder Xabi Alonso has ruled out the prospect of leaving the Bernabeu this summer.
The Spain international has been linked with both an emotional return to Liverpool as well as a move that would have possibly seen him follow Jose Mourinho to Chelsea this summer.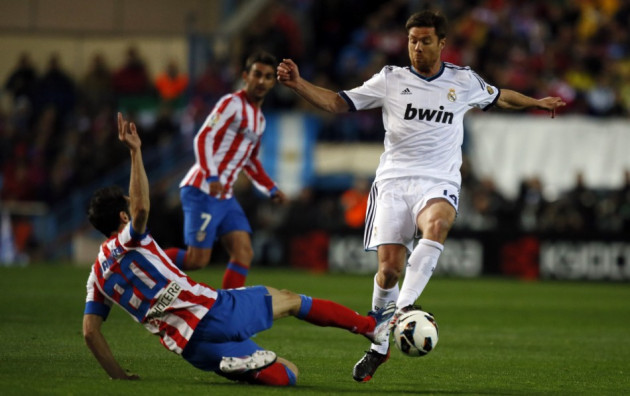 But 31-year-old Alonso insists he does not have his eye on a move in the coming months, declaring that he will be a Real Madrid player for at least another campaign.
"Of course I am going to be here next season," the midfielder was quoted as saying by Marca.
Alonso's current deal with Real Madrid expires at the end of next season, having not yet responded to the club's offer of a new two year deal. In what has been a turbulent season for Jose Mourinho and the club, relationships between certain players and 'The Special One' have been strained at the best of times.
But while the former Chelsea and Inter boss has spectacularly fallen out with the likes of Iker Casillas, Sergio Ramos and Pepe, Alonso reportedly remains one of the Portuguese manager's closest allies in the Bernabeu dressing room.
But despite Mourinho moving ever closer to an emotional return to Stamford Bridge, Alonso seems intent to see out the remainder of his contract in the Spanish capital.
Alonso has also been linked with a return to Liverpool, the club he left for Spain for £30m four years ago. The Spaniard enjoyed five seasons at Anfield, winning an FA Cup, UEFA Super Cup and a Champions League during his spell.
The Reds have been linked with a move that would see captain Steven Gerrard reunited with Alonso in midfield, but it would appear such a move will have to wait at least another year, should it ever come to fruition.
After last year's La Liga triumph, Real Madrid saw their hopes of retaining their crown thoroughly extinguished months ago, while Mourinho's attempt to win the Champions League with a third club was dismissed by Borussia Dortmund at the semi-final stage.
Los Blancos can still salvage something from their season when they meet city rivals Atletico Madrid in the Copa del Rey final next week, and Alonso believes one last team effort will be vital to claiming some silverware this season.
"We are mentally prepared for the cup final, it will be a tough match," Alonso said, speaking after Madrid's 6-2 win over Malaga on Wednesday evening.
"It is a clear objective, one we can achieve this year and nothing else can distract us. We all have to pull in the same direction."