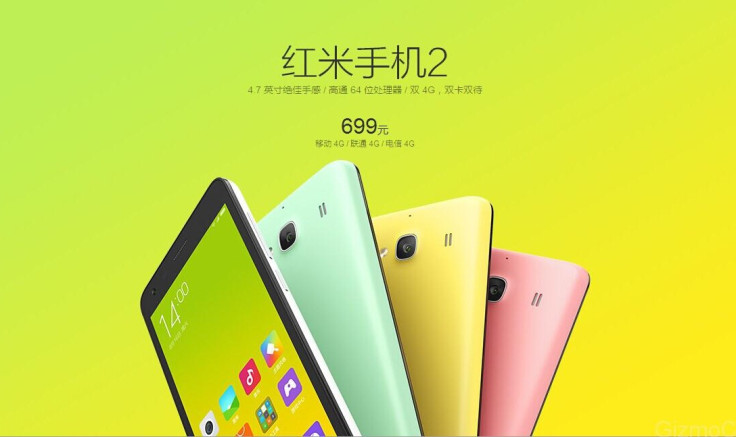 Chinese mobile manufacturer, Xiaomi has officially unveiled the successor to the Redmi 1S, called Redmi 2S.
The new Xiaomi smartphone can be pre-ordered starting today [4 January], with a suggested retail price of 699 yaun ($112.60) and it will go on sale from 9 January. Users will get to buy the smartphone in five different colour variants such as white, black, green, yellow and pink.
As for hardware features, the Redmi 2S shares most of the tech specs common to that of its predecessor, including the 4.7in screen with resolution measuring 720x1280 pixels.
The 2S is powered by 1.2GHz Snapdragon 410 central processing unit with 64-bit support, and is paired with 306 graphics unit; while the Redmi 1S has a Snapdragon 400 chip and Adreno 305 GPU.
The latest offering has a 1GB RAM and offers 8GB in-built storage, which is expandable up to 64GB through microSD card.
Other noteworthy features are the eight megapixel rear camera and a two megapixel front-facing camera. There is a 2,200mAh battery inside Redmi 2S, which stores 200mAh more power than the Redmi 1S.
The biggest change in terms of connectivity is the additional LTE that will support multiple carrier networks. The Redmi 2S supports GSM, WCDMA, TD LTE and LTE FDD. Unfortunately there is no Lollipop touch for the smartphone, which comes pre-loaded with Android KitKat version 4.4.4.
Xiaomi will be lining up some more gadgets for release in 2015, which include the company's flagship smartphone and the next-gen Redmi Note.
[Source: PhoneArena]