Xiaomi - the Chinese company seen as the Apple of the East - has launched its latest flagship smartphone, hoping the Mi 4 will see off the challenge expected from the iPhone 6 later this year.
China is a key battleground in the premium smartphone market as it is one of the last big markets where there is still significant growth happening.
While China's own Xiaomi is a practical unknown in western countries owing to the fact it doesn't sell phone here (yet), in its home territory it is the number three smartphone maker and isn't resting on its laurels.
The Mi 4 is a smartphone which continues the company's tradition of combining high-end hardware with budget pricing.
The new phone has a 5in Full HD screen with a top-of-the-line Qualcomm 801 processor, uses premium materials and will go on sale for 1999 yuan (£190) at the end of the month.
An equivalent iPhone 5s costs £550.
Whiter than white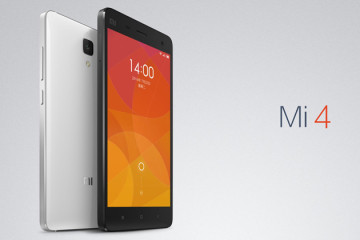 "Our product really is better than the iPhone. Our white version is also better than their white version. Even our white colour is whiter," founder and CEO Lei Jun said during a glitzy launch event in Beijing on Tuesday.
Over the years, Lei has carefully cultivated a Steve Jobs-like image - after reading a book about the iconic Apple founder in college. As well as adopting a lot of Apple's marketing techniques, Jun also dresses like his idol by wearing jeans and dark shirts.
In January, Apple began selling its iPhones through China Mobile, the country's and indeed the world's biggest mobile phone network with a customer base closing in on 800 million.
It was seen as a significant move for Apple and described as a "watershed moment" by CEO Tim Cook. The company is widely expected to launch two new iPhone 6 models with larger screens later this year which will be competing directly with Xiaomi in the Chinese market.
At the moment, Xiaomi is only really competing with Apple in China, though it is slowly expanding beyond its home territory, launching smartphones in Singapore, Malaysia and the Philippines while on Tuesday its flagship smartphone sold out within 38 minutes when it went on sale in India.
The company plans to expand to Brazil and Indonesia later this year.
Xiaomi launched a $13 wristband/fitness tracker alongside the Mi 4 which will act as an ID authenticator meaning the phone can be unlocked without having to enter a password.
This is likely to be a lot cheaper than Apple's iWatch which is expected to be released around the same time as the iPhone 6.