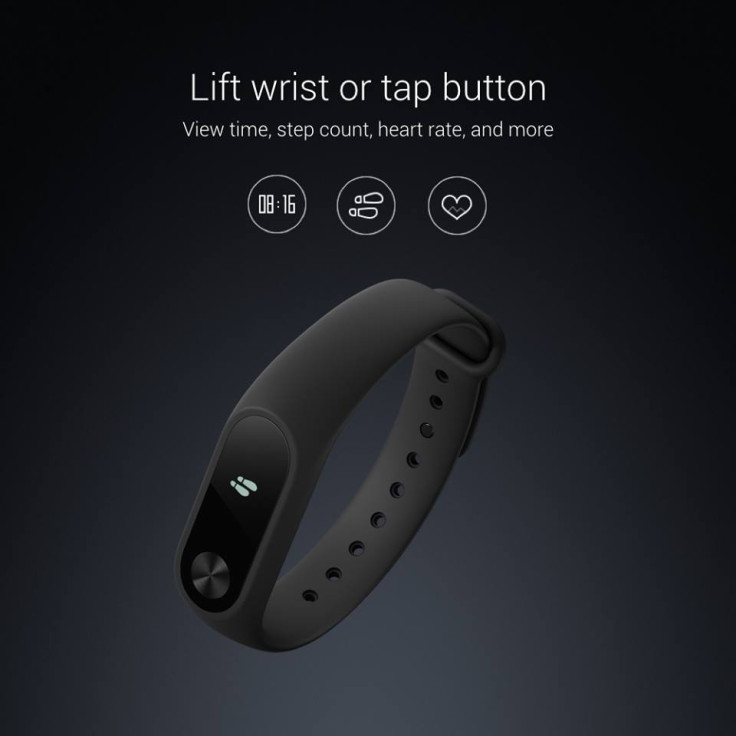 Xiaomi has finally unveiled the Mi Band 2, the successor to the Chinese company's hugely popular budget wearable, the Mi Band. The fitness and sleep tracker features a tiny OLED display with heart sensors and costs $23 (£16).
The latest product comes two years after the launch of the first generation Mi Band, followed by the Mi Band Pulse with heart rate sensor. The company claims that due to its affordability compared to other wearables, the Mi Band has sold over 20 million units until now making it the second largest fitness tracker company behind Fitbit.
The Mi Band 2 comes with a major upgrade compared to the Mi Band which is the OLED display. It also comes with a new hardware platform that supports new sports pedometer algorithm which can effectively understand when a person is walking, sitting idle or sleeping. The Band, like the earlier one, comes with support for notifications from calls, text messages and alarms which will now be displayed on the tiny screen as opposed to the Mi Band where only tiny LED lights blinked and the Band vibrated.
As far as battery capacity is concerned, Xiaomi says the Mi Band 2 can last up to 20 days on a single charge, which is quite impressive given that it has an OLED display. The original Mi Band could last more than 30 days on single charge.
The Mi Band 2 will take on other budget wearables as well as prime fitness trackers like FitBit which many consumers find too pricey especially for the base models. Mi Band users have always been positive of the price factor and now with an OLED display, which was a big drawback earlier, the Mi Band 2 may just be the most affordable wearable in the global market. While the device will go on sale on 7 June in China, the retailing dates for other regions like UK and the US have not been revealed yet.
Tech Specs
Battery
70 mAh, Lithium polymer
20 days battery life
Weight
7.0 g
Water Resistant
IP67 Standards
Internal Configuration
0.42-inch OLED Display
2nd Gen Bluetooth 4.0
ADI ultra-low power acceleration sensors & Photoelectric sensors
Strap Size
235 mm total length
155 - 210 mm adjustable length
Made of Thermoplastic elastomers, aluminium