The Xiaomi Mi Band, a wearable sleep and activity tracker under $15, has been one of the highlight products from the Chinese manufacturer with consumers hoping for an upgraded version to be released. Now, ahead of a major Xiamo event this month, the company's CEO Lei Jun has shared a picture of a smart band that looks like the Xiaomi Mi Band 2.
The biggest upgrade from the original Mi Band as shown in the picture below is an LCD screen which most users missed given most other trackers in the segment had one. The display on the Mi Band 2 will likely show daily steps taken, BPM and of course, the time.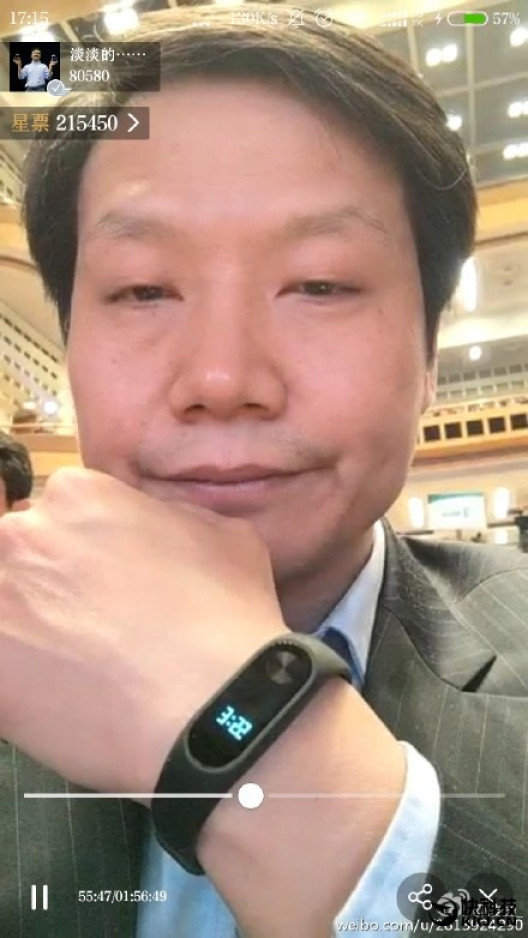 The design also indicates a much wider strap than the current model but the material still remains rubber. The wider strap could incorporate a larger battery with a longer life. Most significantly, the design features a physical button which is likely to allow users to toggle through different modes.
Previously, GizChina had indicated that Xiaomi had filed for a patent that showed the company to be working on a drone that can follow the wearer of a Mi Band and even receive simple commands from gestures made by the Mi Band wearer. It may be too early for this feature to come to the Mi Band 2 but you never know.
The Mi Band has been a huge success for Xiaomi thanks to its pricing and given Xiaomi's pricing strategies the Mi Band 2 should not ideally cross $25. Although there is no clear indication of a specific launch date, the company is slated to announce a 6.4-inch smartphone called the Mi Max on 10 May. Since the CEO decided to show off the band just little over a week ahead of the event we could assume that the Mi Band 2 should also be unveiled at the same event.