Owners of Xperia SP handset are in for some good news, as a recently leaked roadmap from Sony clearly suggests that the mid-range flagship device will get the highly-anticipated Android 4.4.2 KitKat update in June or July 2014.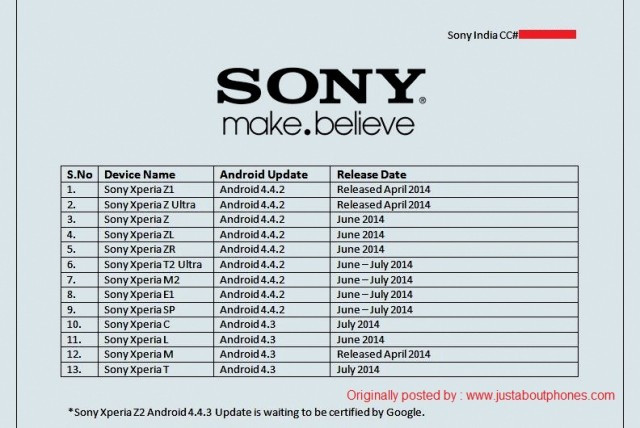 In addition, a few other Xperia handsets including Xperia C and L are expected to receive an upgrade to Android 4.3 Jelly Bean as they are still running outdated builds of Android 4.2.2 firmware.
The leaked roadmap schedule for future Android updates to Sony's Xperia devices has been reportedly secured by JustAboutPhones from Sony India.
According to the roadmap document, the Xperia L will get Android 4.3 update starting June 2014, while Xperia C will receive the same update in July 2014.
Furthermore, the Xperia SP is expected to be updated to KitKat between June and July 2014, according to the roadmap. Though this theory is contrary to earlier leaks suggesting the handset may not receive the KitKat update, Sony has neither officially confirmed nor denied anything about the rumoured KitKat release.
The leaked information should be taken with a pinch of salt as such documents could be easily faked. On the contrary, there is no denying the fact that Sony might actually decide to change its decision in favour of releasing the KitKat update for Xperia SP owing to mounting pressure from its loyal fans and critics.