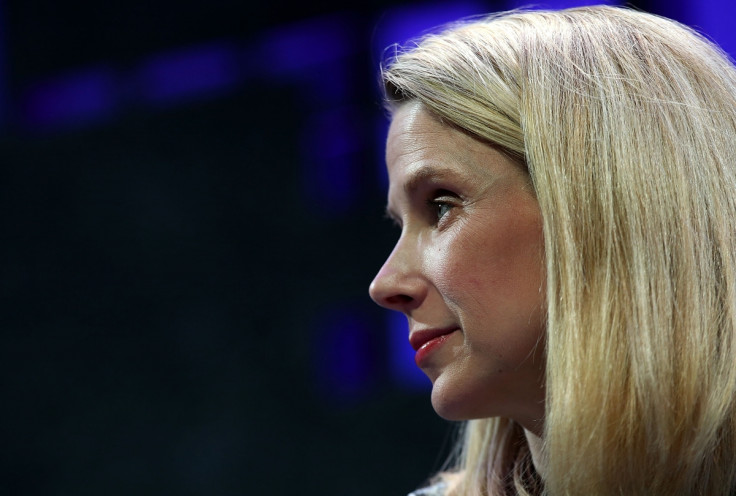 Yahoo CEO Marissa Mayer could stand to make a whopping $55m (nearly £38m) if the struggling tech giant's internet operations get sold and she loses her job. The hefty "parachute package" was disclosed in a regulatory filing late Friday (29 April) with the Securities and Exchange Commission.
The former Google executive's massive payout would be triggered if she is pushed out within a year of any sale. According to the regulatory filing, the CEO's potential payout includes a cash severance of $3m, restricted stock units and options.
Yahoo also revealed that Mayer got a significant pay cut in 2015 as well, dropping by 15% from $42m in 2014 to nearly $36m in 2015. Since Yahoo's financial performance fell short of its "rigorous annual financial goals", Mayer was not awarded the full compensation and only realised $13.89m, by the company's estimate. However, it is still above Standard & Poor 500's median of about $12m in compensation of CEOs.
Other Yahoo executives could also potentially rake in millions if they are terminated in a similar manner. Chief Revenue Officer Lisa Utzschneider could get about $20m while Chief Financial Officer Ken Goldman could receive $16m. The report reveals that Yahoo executives decided to give up their bonuses last year.
"I don't think this management team has done anything to merit a huge payout," Eric Jackson, managing director of SpringOwl Asset Management, a Yahoo shareholder, told the New York Times.
Given Yahoo's deepening financial woes and Mayer's largely unsuccessful efforts to turn the company around during her four-year tenure, the CEO's compensation paired with the question of whether she will continue at Yahoo in the event of a sale, has become a topic of interest.
Earlier this year, Yahoo fired 15% of its staff in an effort to cut costs. In the first quarter of 2016, the company reported a whopping $99m quarterly loss. Mayer said she and the board have made the sale process "a top priority".
The Cupertino-based company has reportedly narrowed its list of bidders in the auction for its core internet assets to 10 companies, including Verizon and big private equity firms. While Yahoo still has not given a timeline for assessing the bids for the internet business, analysts expect a deal to be announced within the next two months ranging between $4bn and $10bn.
To add to the company's troubles, a fake ad was posted to Craigslist on 28 April listing the internet giant for sale for $8bn OBO (or best offer).
"A rare find, this one-of-a-kind Internet original is now available to the public for a limited time," the ad reads. "A beautiful piece in good-to-fair condition, showing some signs of wear but easily restored in the hands of the right person. Sadly, the original owners can no longer maintain it."