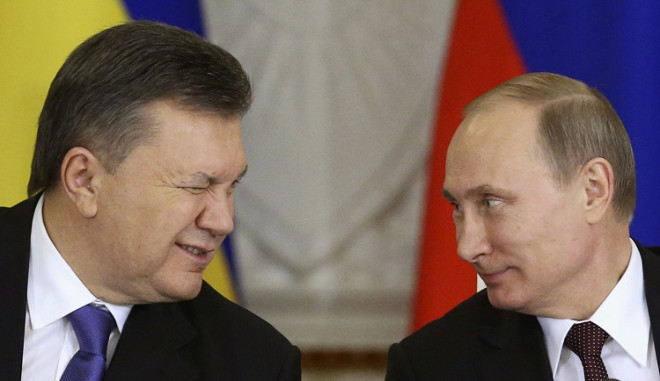 Ousted Ukrainian president Viktor Yanukovich said he is "surprised" that Vladimir Putin continues to stay silent "in such a reserved manner" over the Ukraine crisis.
Claiming that Russia is "obliged" to act in the crisis, Yanukovich said that knowing the character of the Russian president "I am surprised he is still staying silent."
The deposed president said that he has not met Putin yet, but was in touch with him by phone.
"I was in constant dialogue with Putin, but above all it was about our economic affairs," Yanukovich said.
Asked about whether Putin thinks he is still the Ukrainian president, Yanukovich said: "When we meet I'll understand and we'll probably have a discussion about what happened."
Talking in the South Russian city of Rostov-on-Don, at his first news conference since fleeing Ukraine, Yanukovich insisted that he never "gave any orders" to police to shoot protesters and remarked that he still is the president of his homeland.
"I'm an acting president; I haven't resigned, I haven't been impeached, and I'm still alive," he said.
Yanukovich added that the overnight seizure of two airports in Crimea by alleged Russian forces is a "natural reaction to the bandit's regime change" in Kiev.
The fugitive president expressed "sympathy" with the formation of a self-defence militia in the peninsula maintaining that it was "the natural desire of people".
"Crimeans don't want to obey and will not obey nationalists," he said.
However, Yanukovich said that he is not planning to request Russian military support and urged Crimeans to "avoid any conflicts".
"As the president of Ukraine, I declare that Crimea should remain within the territory of Ukraine, retaining broad autonomy," Yanukovich said.
Yanukovych apologised before veterans and the Ukrainian people for "not having the strength to keep stability and allowing this lawlessness"
He denied that he ran away from his country, insisting: "I didn't have any fear, I needed to comply with safety conditions. I never ran away. I went to Kharkov, but then they shot at me with automatic weapons when in a car. I just had to guarantee my safety."
The ex-president said he will not take part in May presidential elections, as they are illegal.