Yazidi woman Nadia Murad: Former Isis sex slave could win next Nobel Peace Prize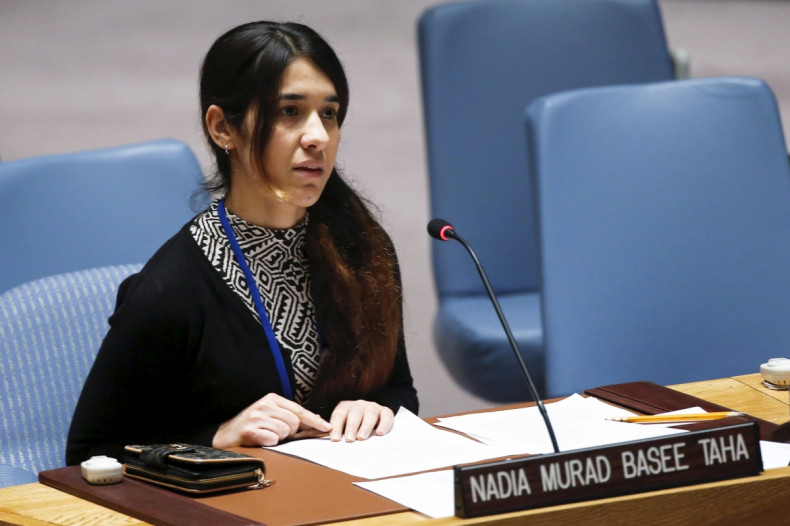 The Iraqi government has nominated Nadia Murad, a former Isis sex slave, for the Nobel Peace Prize. Murad was one of thousands of Yazidi women and girls to be abducted by the Islamic State (Isis) and were subjected to regular sexual abuse.
In December Murad spoke at the United Nations about what she went through during her time being held captive by the terrorist group. She told the UN Security Council how she was subjected to physical abuse by the men and spoke of how she was raped until she passed out.
Speaking at the UN, Murad said: "Rape was used to destroy women and girls and to guarantee that these women could never lead a normal life again. They humiliated us. They touched us and violated us. I implore you − get rid of Daesh (Isis) completely.
The 21-year-old was captured by Isis in August 2014 and taken from her village in Iraq to Mosul. She faced three months of brutality before she was able to escape. Murad now lives in Germany but a number of her brothers are believed to have been killed by Isis terrorists.
A statement from the Iraqi government said: "We are very proud of nominating this Iraqi girl to receive the Nobel Peace Prize, and we ask the public opinion and associated organisations to support her because she deserves to win."
Meanwhile, Hiwa Osman, a Kurdish journalist, started a social media campaign in support of Murad winning the Nobel Peace Prize. The Facebook page "NobelPrize4Nadia" gained over 5,000 likes and the hashtag #NobelPrize4Nadia soon brought together hundreds of supporters. On 28 December, Osman tweeted that if Murad won the Nobel Peace Prize, it would be humanity's "best slap on the face" to Isis militants.
Murad has continued to fight back against Isis since she escaped captivity, pledging to raise awareness of what happened to her in order to help the other Yazidi women. On 2 January, she said that Isis threats would not deter her from speaking out against "terrorism and rape committed against women and children".
Speaking about their nomination of Murad, the Iraqi government said: "Nadia talked about the plight of Yazidi women abducted by Isis, and she asked the international community to rescue a number of 3,400 Yazidi girls and women from the hands of Isis. She is the symbol of women's struggle against the dark forces aiming to degrade women."