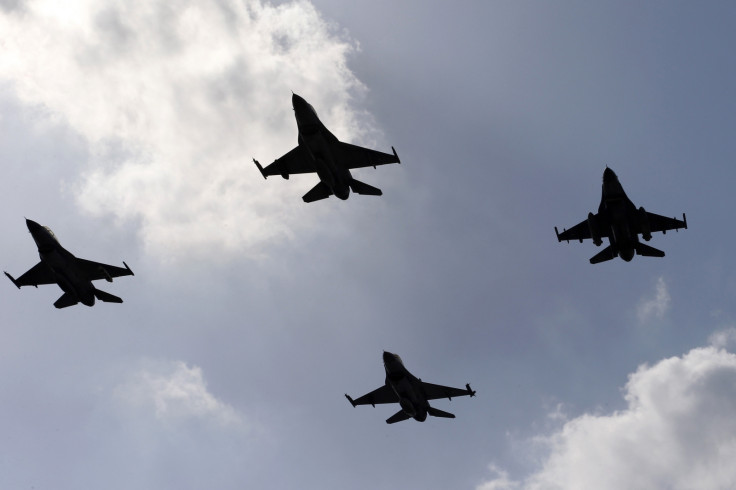 A Moroccan fighter jet participating in the Saudi-led operation in Yemen against Houthi rebels has gone missing.
The Moroccan Royal Armed Forces admitted it could not trace the F-16 fighter since Sunday, 10 May evening.
"One of the F-16s of the Royal Armed Force made at the disposal of the coalition led by Saudi Arabia to restore the legitimacy in Yemen went missing on Sunday at 6pm local time," an official statement read.
The aircraft was reportedly hit when it went missing and it is still unclear whether the pilot ejected.
According to the state-run Maghreb Arab Press (MAP), another pilot serving in the same squadron did not see the pilot of the missing jet ejecting. An investigation is under way to find the vanished jet.
The F-16 has gone missing when Houthi rebels have agreed to a five-day humanitarian ceasefire proposed by Saudi Arabia. The Shiite Houthis, however, warned they would respond if there are provocations from the coalition forces.
In a separate development, Yemen's former president Ali Abdullah Saleh has announced his formal backing for the Houthis. Though it was widely believed the Houthis are supported by Saleh, who stepped down in 2012, this is the first time he is openly acknowledging it.
Saleh said in an address to Houthis: "You should continue carrying your arms, ready to sacrifice your lives in defence against these belligerent attacks. I can describe this aggression as an act of cowardice."
"If you are brave enough, come and face us on the battlefield, come and we will be at your reception. Shelling by rockets and jet fighters cannot enable you to achieve any of your goals."